Message
Bye Week check in on 2014 Mocks


Posted by

blueslover
on 10/18 at 12:35 pm

It's the bye week. Not a bad time to see what the mockers are saying-

Walter Football
3. Tampa Bay Buccaneers: Tajh Boyd, QB, Clemson
7. Atlanta Falcons: Louis Nix, DT, Notre Dame
11. Carolina Panthers: Sammy Watkins, WR, Clemson
29. New Orleans Saints: Scott Crichton, DE/OLB, Oregon State
The Saints had several holes to fill in the 2013 NFL Draft, so they weren't able to obtain a pass-rusher until the sixth round with Rufus Johnson. They'll probably need to do so earlier next April.



61. New Orleans Saints: Corey Robinson, OT, South Carolina
The Saints have needed tackle help for a while now. I know they don't value the position to take one in the first round, but perhaps they'll opt for an upgrade in the second round.

93. New Orleans Saints: Tre Boston, S, North Carolina
Here's a safety to play next to Kenny Vaccaro in the future. Malcolm Jenkins, who has disappointed, will be a free agent in March.

1st Rd could be. They didn't draft Armstead high for nothing. It'll be interesting to see how the jenkins situation/negotiations play out

DraftTek
30- Jackson Jeffcoat Texas OLB34
Rob Ryan and the Saints' defense have begun to make fans forget about how bad they were last season.However, it doesn't mean they won't change their Big Board all that much. Defense will still be the main focus, but it's been nice not having to hope the offense will light up the scoreboard with 35 points or more just to stay in the game. Jeffcoat would be a significant addition to the emerging youth movement for the New Orleans' D. While Jeffcoat won't have that startling first-step speed as a pass rusher, his length, size and athletic abiltiy will make opposing OCs notice.



I was talking this guy to the Saints last winter before he decided to stay in school.

Draft Countdown
25- ADRIAN HUBBARD, OLB, ALABAMA
The Saints defense has made the transition to a 3-4 but they don't have a true impact pass rusher at outside linebacker. Granted there are plenty of options on the roster but they primarily consist of veterans who are past their prime, journeymen and unproven youngsters. Perhaps someone will emerge this season but as of right now the position is a question mark. Alabama OLB Adrian Hubbard is a rangy pass rusher with a large frame Adrian Hubbard | Alabama Crimson Tide and long arms who led the Crimson Tide in both sacks and tackles for a loss as a redshirt sophomore. Hubbard plays in a similar odd front in college and would be a perfect fit for the Saints new defensive scheme. Keep an eye on Oregon RB / WR / RS De'Anthony Thomas too because New Orleans was legitimately interested in Tavon Austin and an offensive guru such as Sean Payton would have an absolute field day coming up with ways to utilize a weapon like that.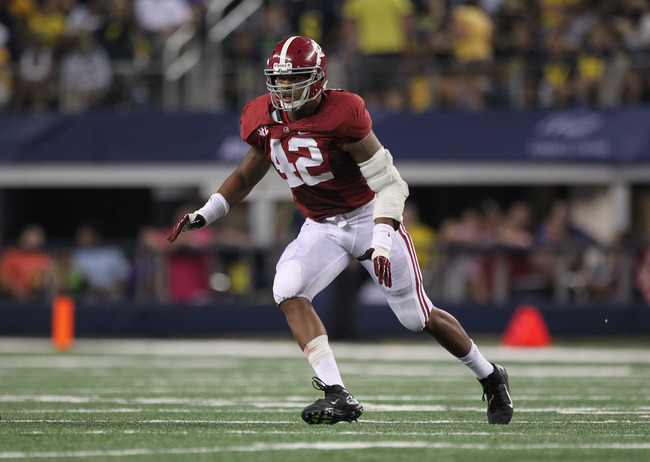 Sorry, I'm gun shy over bama boys

CBS Sports Rang & Brugler
RaShede Hageman, DT Minnesota
Kyle Van Noy, OLB Brigham Young no DT with our guys now

nfl draft geek
#29) New Orleans Saints - Ifo Ekpre Olomu (CB Oregon)
Ifo Ekpre Olomu 2014 NFL Draft
The Saints defense has drastically improved in 2013 with the switch to the 3-4 under Rob Ryan. They still have a lot of areas where they could use an upgrade in talent, with pass rusher and cornerback being the two main ones. They'll have a tough call to make in the draft, whether they want a outside linebacker like Trent Murphy or Jackson Jeffcoat, or one of the many talented cornerbacks in this class. I'm going with value here and saying cornerback. Many feel that Ekpre-Olomu is the best cornerback in this years class. Olomu is a very physical corner who plays press coverage and drives on the ball very well, but also has the speed and athleticism to run deep with any receiver.



The last one prolly has me thinking... Greer will be 32 next year. His contract will cost $2-3mil to cut but save $8.2mil over the next two seasons. We have seen the D improvement with some key pieces missing. Add a 1st Rd CB (like what we had hoped PRob would be) along with 27yo Lewis & the D could step up yet another level. Besides, names like that are a blast for Bobby & Hokie.


Reply • Back to Top
Posted by
Hugo Stiglitz
on 10/18 at 12:44 pm to

blueslover

OL or defense for sure with the first pick.


Reply • Back to Top
Posted by
Hoodoo Man
on 10/18 at 12:45 pm to

blueslover

Malcolm Jenkins will stay on the team


Reply • Back to Top
Posted by
Hoodoo Man
on 10/18 at 12:46 pm to

Hugo Stiglitz

I think center with the first is possible


Reply • Back to Top
Posted by
Sader1990
on 10/18 at 12:48 pm to

Hoodoo Man

CB or OL with the first pick. Need to find a replacement for Greer.


Reply • Back to Top



Reply • Back to Top
Posted by
Brettesaurus Rex
on 10/18 at 1:09 pm to

htran90

Honestly, I would love to have Lee out of USC or Beckham. Guys who can destroy the top of a defense but also have YAC capability.

I'd probably rather have D. Thomas way more. I'm sure Sproles only has a couple more years left and he could immediately step in.

As far as what we need, we probably really need to go best o-lineman available. I think you throw Armstead in at RT, try and find the beastliest road grading Guards

This post was edited on 10/18 at 1:48 pm

Reply • Back to Top
Posted by
Byron Bojangles III
on 10/18 at 1:26 pm to

htran90

Van Noy would thrive in our defense.


Reply • Back to Top
Posted by
CocoLoco
on 10/18 at 3:39 pm to

Hoodoo Man

You can get a good center later on. 3rd round for a center would be ideal.


I still think it's either OL or somewhere on defense not including the defensive line.

CB: Greer is getting older.
OLB: There's still some uncertainty. Galette has been great, but a young player to play opposite of him would be nice.
S: Vacarro and Jenkins have been feeding off of one another. I think Jenkins is earning the right to stay on the team, although I like him much more in a nickel role. Bush looks solid. Harper could potentially be done here, and drafting a safety might really be needed.


Reply • Back to Top
Posted by
smash williams
on 10/18 at 7:17 pm to

CocoLoco

I like two Kyles on D.

Kyle Fuller CB/S
Kyle Van Noy OLB

Mike Davis at WR would be a nice get too.


Reply • Back to Top
Posted by
Hoodoo Man
on 10/18 at 7:22 pm to
CocoLoco
quote:


---

OLB: There's still some uncertainty. Galette has been great, but a young player to play opposite of him would be nice.


---
Butler is pretty young and played well in Dallas.
I was really, really looking forward to seeing what he'd bring to the table this season.

Right now, we have Gallette, Wilson, Butler, and Haralson.
That's a pretty good corps.
Although Wilson hasn't quite made a big of an impact as I would have hoped.


Reply • Back to Top
Posted by
htran90
on 10/18 at 7:27 pm to

blueslover

I think our needs through 6 weeks are:

OL - no questions

WR - we have a young group (morgan - burner, stills - slot/burn?, toon - big threat), but I feel if we get that ONE really great shifty receiver that is a playmaking threat (harvin type), it opens up the field. I've never been VERY high on moore, but he is definitely missed right about now. Moore/Colston are getting old too.

DB - greer is still serviceable, but getting young here definitely helps. With questions on prob and his injury (he was making a decent turnaround - perma-nickel DB?) we need to shore this up

OLB - there is definitely still questions about this position. One strong OLB and this group could be doing what KC is doing to opponents.


Reply • Back to Top
Posted by
St Augustine
on 10/18 at 7:27 pm to

Hoodoo Man

I would not be upset if we went really heavy o line, wr, and old. We really need to get more dangerous on the outside and powerful in the running game.





Reply • Back to Top
Posted by
blueslover
on 10/18 at 8:23 pm to

St Augustine

I guess it is related to figuring the need at OLB but has Martez Wilson disappeared as much to everyone else as to me? He might have been a healthy scratch the last couple of weeks.

Juneyah has excelled but looks like he's down in a four point as often as up. I spose for a one trick pony he's still a thoroughbred.


Reply • Back to Top
Posted by
Kcrad
on 10/18 at 9:17 pm to

Hugo Stiglitz

We need OL and a receiver. Right now Brees is rushed a lot and all we have now is two rookies, a hurt Graham and an old Colston.


Reply • Back to Top
Is Yelton draft eligible this year!!!???


Reply • Back to Top
Posted by
IIxxBREADxxII
on 10/19 at 1:12 am to
chrisman17
quote:


---

Is Yelton draft eligible this year!!!???

---



Reply • Back to Top
Posted by
wpsnickers
on 10/19 at 10:40 am to

IIxxBREADxxII

Please god no more Alabama running backs.


Reply • Back to Top
Posted by
blueslover
on 10/19 at 10:54 am to

IIxxBREADxxII

a decent Top 50 list if you're looking forward

Current Big Board from Walter

OLBs Van Noy & Khalil Mack showing up a lot for the #32 pick range possibility


Reply • Back to Top • Refresh