Message
Well, I found the best burger in CenLa....


Posted by

heypaul
on 7/1 at 6:05 pm

Yall know that I eat at a different place in a different city everyday.
Well today I had to run up the Alexandria, and my brother told me we were going to get a burger at
The Salad Shop.

WoW!

What a surprise, it's one of the most unassuming buildings I've ever been in. (and lord knows I've been to some crazy spots)



(Google street view, and no the building or picture is not cut off, it's only about 5 ft wide)

So anyway this place has some huge salads with daily homemade dressing.
The group of guys sitting in there while we waited on our order (there's only 4 tables) all got huge shrimp poboys, that looked awesome.

But the star of the show was my cheese burger!

Nice thick, juicy & cooked to perfection. You can see the 3 ladies in the kitchen cutting the fresh onions, tomatoes, and thick arse cheese, off the block of cheddar shredding the lettuce, while ever so slightly toasting the lightly buttered kaiser buns!
The burgers are made to order and take about 20/30 minutes to come out, because they're so busy.
The fries were not cut which I can forgive, since the quality of the burger was so good.

But if your in the area, you certainly need to add this joint to your rotation.

The Salad Shop


Reply • Back to Top
Posted by
TigerHam85
on 7/1 at 6:12 pm to

heypaul

Sounds nice, but you've obviously never been to Bernice's in Bunkie.


Reply • Back to Top



Reply • Back to Top
Posted by
heypaul
on 7/1 at 6:19 pm to
TigerHam85
quote:


---

Sounds nice, but you've obviously never been to Bernice's in Bunkie.


---

Actually I have, but it was a while ago, and I got the grilled chicken salad.
They do a good burger?


Reply • Back to Top
Posted by
El Josey Wales
on 7/1 at 6:20 pm to
heypaul
on no pics


Reply • Back to Top
Posted by
TigerHam85
on 7/1 at 6:23 pm to

heypaul

Best burger I've ever had. Get the Flook burger. It's their specialty burger.


Reply • Back to Top
Posted by
heypaul
on 7/1 at 6:46 pm to

El Josey Wales

My phone was dead,
And my brother refused


Reply • Back to Top



Reply • Back to Top

I might've seen ya


Reply • Back to Top


Best I've had in CENLA is Rosie Jo's.


Reply • Back to Top
quote:


---

Best I've had in CENLA is Rosie Jo's.

---


Bev burger is good. I still give the stuffed cheeseburger from the cottage the advantage.


quote:


---

Annette, long time Spirits waitress, started

---


No way, now I really need to check out this place.


Reply • Back to Top



Reply • Back to Top
Posted by
bossflossjr
on 7/15 at 12:21 pm to

heypaul

I went today, thats a dang good burger.

Tiny place. 4 tables: 3 top & 3 2 tops. Alotta takeout and delivery biz.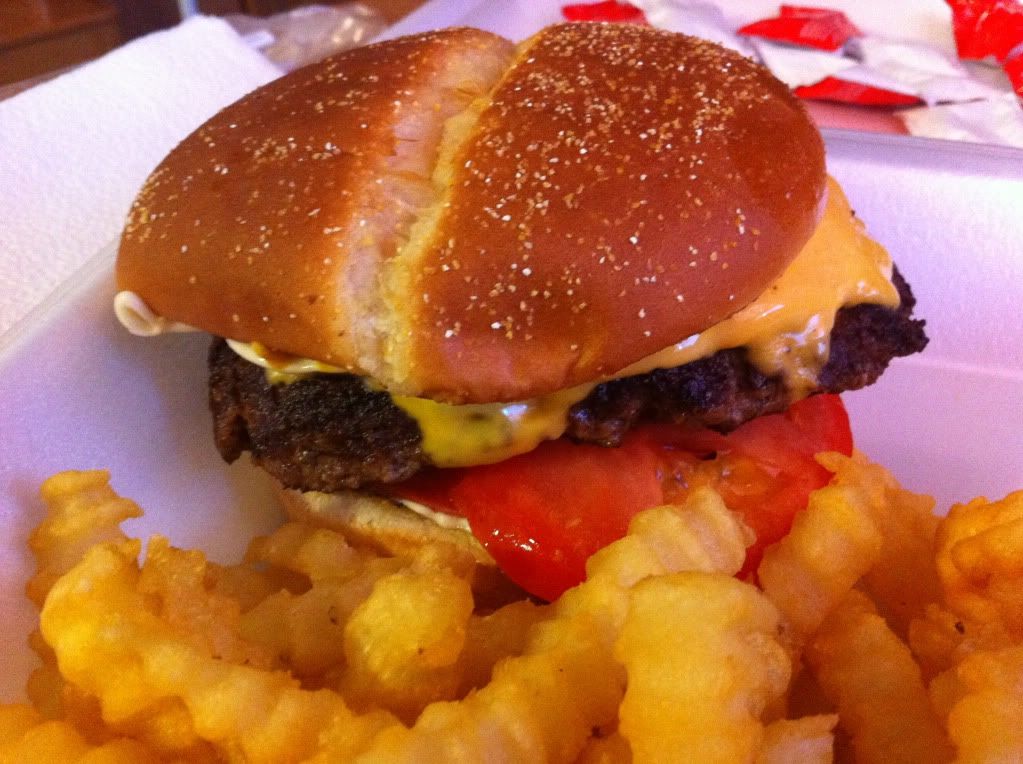 Reply • Back to Top



Reply • Back to Top
Posted by
pooponsaban
on 7/15 at 1:53 pm to

heypaul

(no message)

This post was edited on 7/15 at 1:57 pm

Reply • Back to Top
Posted by
AlxTgr
on 7/15 at 2:19 pm to

bossflossjr

Never seen a bun like that around here before.


Reply • Back to Top
Posted by
Jibbajabba
on 7/15 at 5:37 pm to
AlxTgr
quote:


---

Best I've had in CENLA is Rosie Jo's

---


Agreed.


Reply • Back to Top
Posted by
tigerfoot
on 7/15 at 6:02 pm to
TigerHam85
quote:


---

Sounds nice, but you've obviously never been to Bernice's in Bunkie.

---


Last two burgers from Bernices were



Reply • Back to Top
Posted by
4LSU2
on 7/15 at 7:48 pm to
pooponsaban
quote:


---

Pooponsaban

---


Have you been tracked down for an odd email request by chance?


Reply • Back to Top • Refresh