Message
Using a Double Jet Burner for Crawfish Boils has changed my life


Posted by

Chicken
on 4/11 at 9:32 am

As I had indicated last month, I was having some trouble with my old burner that was approaching 17 years old. At a recent boil, it took this old burner 60 minutes to bring 40-50 quarts of cold water to a boil (I have a 100 qt pot). This ultimately led to me overcooking my crawfish.

So, I came here seeking advice about new burners. In my research, I had come across the Double Jet Burner. Lowes was selling them, and the product advertised its ability to quickly boil water in large pots.

Some on the Food board were skeptical, and there was concern that the regulator on this thing would freeze up.

But, alas, I tried it out at a recent boil for my kids' school, and it was the MVP of the day. I was able to get the initial cold water boiling in 15 minutes...yes, 15 minutes!

The regulator and side of the propane tank did get cold, but it never froze up...we didn't have it on full blast.

With thing thing, I could crank out a new batch every 30-35 minutes after the first batch.

The black paint on the burner did burn off, and you wonder why they even paint the thing. And it left some pretty good scorch marks on bottom of the pot. And sure, it is loud...but it has totally made me rethink how I plan out my boils...it is a game changer!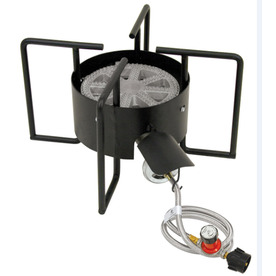 Reply • Back to Top
quote:


---

And sure, it is loud

---
Impresses the chicks...


Reply • Back to Top



Reply • Back to Top
Posted by
Politiceaux
on 4/11 at 9:37 am to

Chicken

I love my double jet burner. Can't see myself going back to single.


Reply • Back to Top
Posted by
s14suspense
on 4/11 at 9:38 am to

OTIS2

Good deal. Glad that worked out for you.


Reply • Back to Top
Posted by
Lookin4Par
on 4/11 at 9:38 am to

Chicken

How much did you spend?


Reply • Back to Top


Like you, the black paint burned off on my first use. But I really don't care.


Reply • Back to Top
Posted by
Chicken
on 4/11 at 9:43 am to
Lookin4Par
quote:


---

How much did you spend?

---
$60


Reply • Back to Top
quote:


---

we didn't have it on full blast

---
I take it this is key?


Reply • Back to Top
quote:


---

Cool. My parents just gave my husband one of those for his bday. We will probably try it out this weekend.

---
it will give off odor on first use as it burns off paint...annoying but not a big deal.

I had four batches (I did vegatables by themselves first, then three sacks), and used one tank. Like I said, I didn't crank up to full blast...didn't need to. But keep an extra propane on standby just in case.


Reply • Back to Top



Reply • Back to Top
quote:


---

And sure, it is loud

---
I'm still searching for the compromise. I have words to use!


Reply • Back to Top
quote:


---

How much did you spend?
$60

---


where from?


Reply • Back to Top



Reply • Back to Top



Reply • Back to Top
Posted by
TexasTiger
on 4/11 at 10:11 am to
dustinm27
quote:


---

where from?

---


Academy sells them.


Reply • Back to Top
quote:


---

You need one of these:

---
why? List of advantages? Also, cost of this vs traditional setup.


Reply • Back to Top



Reply • Back to Top
quote:


---

The black paint on the burner did burn off, and you wonder why they even paint the thing.

---
I've always figured it was so the thing wasn't rusted by the time it got to you. Mine (13 years) is covered in rust now.


Reply • Back to Top



Reply • Back to Top • Refresh