Message
Colorado school bars transgendered 1st-grader from using girls' restroom


Posted by

Displaced
on 2/27 at 7:02 am
LINK
The mother speaks out.
quote:


---

Just like she did during the first half of the school year, first grader Coy Mathis wants to use the girls' restroom at her Colorado elementary school. But school officials won't let her.

The reason? Coy is transgendered, born with male sex organs but a child who identifies herself as female.

---


Am I the only one who thinks this is the parents pushing him to be a girl?

Does a first grader (and younger) really have the mental capacity to make a huge decision like that on their own with out their parents pushing them?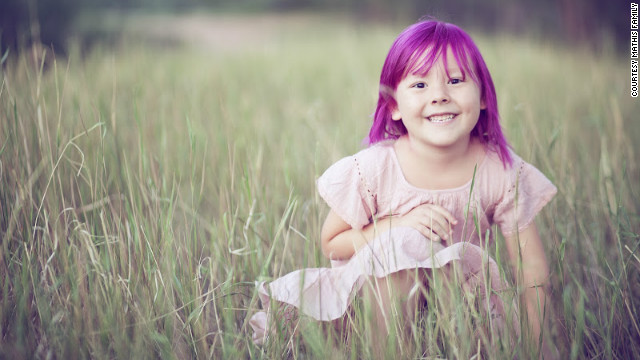 This post was edited on 2/27 at 2:32 pm

Reply • Back to Top
Posted by
OldHickory
on 2/27 at 7:03 am to

Displaced

That's pretty ballsy.


Reply • Back to Top
Posted by
CurDog
on 2/27 at 7:05 am to
OldHickory
quote:


---

That's pretty ballsy.

---



Reply • Back to Top



Reply • Back to Top
Posted by
Cap Crunch
on 2/27 at 7:07 am to

Displaced

I remember talking about this in my psych class last year with kids around this age.

IIRC, the parents allow it to happen, but don't push it to happen. Its a pretty weird condition that can be caused by a number of things


Reply • Back to Top
Posted by
BuckeyeFan87
on 2/27 at 7:08 am to

Displaced

I don't see parents pushing something like this. I can see parents being accepting, but not pushing this onto their child.

Everyone always wants to blame young gays/trans on adults, thinking kids can't figure this shite out on their own.

This post was edited on 2/27 at 7:09 am

Reply • Back to Top
Posted by
OldSouth
on 2/27 at 7:13 am to
Cap Crunch
quote:


---

I remember talking about this in my psych class last year with kids around this age.

IIRC, the parents allow it to happen, but don't push it to happen. Its a pretty weird condition that can be caused by a number of things

---


Oh for fricks sake. I got a name for name it: Shitty Parentism.


Reply • Back to Top



Reply • Back to Top
quote:


---

born with male sex organs

---


Sorry dude, you're a boy. Just because you want to act/dress like a girl, you still have a pecker. Go to the boys bathroom.


Reply • Back to Top
Posted by
BuckeyeFan87
on 2/27 at 7:14 am to
OldSouth


Under a number of circumstances? Sure.
Under a lot of others? Your "old south" title is fitting.


Reply • Back to Top
Posted by
Displaced
on 2/27 at 7:16 am to

BuckeyeFan87

i don't know how long the little birl has been this way, but i don't see how a 4 year old boy can CHOOSE to be a girl all on their own.


Reply • Back to Top
Posted by
USMCTiger03
on 2/27 at 7:17 am to

Displaced

A motherfricking tranny first grader?

frick.

I don't want to live here anymore.

What in the fricking frick?


Reply • Back to Top
Posted by
DownshiftAndFloorIt
on 2/27 at 7:17 am to

BuckeyeFan87

shite


The kid has a penis. It's a boy. Piss in the boys bathroom.

End of story. shite like this shouldn't even make it outside of the school.


Reply • Back to Top
Posted by
OldSouth
on 2/27 at 7:17 am to
BuckeyeFan87
quote:


---

Under a number of circumstances? Sure.
Under a lot of others? Your "old south" title is fitting.

---


You're damn right it is. The kids no more a girl than he is a Polar Bear genius. Wake up and look at the emperor's new clothes.


Reply • Back to Top
Don't be coy.

Seriously, transgendered first graders? WTF?

ETA: Not trying to be a smartass, but does the kid exhibit some kind of feminine behavior? Does he play with dolls, sashay, etc.?

This post was edited on 2/27 at 7:23 am

Reply • Back to Top
Posted by
Cap Crunch
on 2/27 at 7:18 am to

OldSouth

There's more that goes into it than that.

Most parents allow it because they think its just a phase, and a lot of times it is, but sometimes it isn't just a phase and becomes a condition


Reply • Back to Top
Posted by
BuckeyeFan87
on 2/27 at 7:18 am to

Displaced

Since when are first graders four years old?


Reply • Back to Top
Posted by
OldSouth
on 2/27 at 7:20 am to
Cap Crunch
quote:


---

Most parents allow it because they think its just a phase

---


No. No they don't. Just no. You don't know ANYONE who allows their 5 year old boy to live like a girl.


Reply • Back to Top
Posted by
Displaced
on 2/27 at 7:20 am to
BuckeyeFan87
quote:


---

Since when are first graders four years old

---


i was just assuming he has been this way for a couple years.


Reply • Back to Top
Posted by
Hoops
on 2/27 at 7:21 am to

HarryBalzack

He can sit down and pee in the boys bathroom too?


Reply • Back to Top • Refresh