Message
re: Leftover Boiled Crawfish



Reply • Back to Top
Posted by
PlanoPrivateer
on 2/4 at 12:31 pm to

Darla Hood

Also, very good in a salad.


Reply • Back to Top
Posted by
Fight4LSU
on 2/4 at 12:34 pm to

PlanoPrivateer

I peeled leftover crawfish Saturday night and made a hell of a crawfish omelette Sunday morning.


Reply • Back to Top
Posted by
fatboydave
on 2/4 at 12:54 pm to

Fight4LSU

Peel tails, de-cobb the corn and chop up the potatoes and make a soup.


Reply • Back to Top
Posted by
animalcracker
on 2/4 at 1:01 pm to

Darla Hood

i'm not sure why no one mentioned this but freeze them with or without the shells in water.


Reply • Back to Top
Posted by
BRgetthenet
on 2/4 at 1:09 pm to

animalcracker

I mentioned it, just take the head off and place the tail, with shell on, in a gallon zip loc. Get as much air out of it as you can and freeze.

No water.


Reply • Back to Top
Posted by
Darla Hood
on 2/4 at 2:47 pm to

BRgetthenet

Thanks for all the input, y'all. I've never frozen tail meat after a boil, always eat it up, so I just wasn't sure.

Will be peeling like crazy after I get home from work.

And to those who suggested I do something with the potatoes and corn ... I know this is heresy, but we didn't boil any! We did mushrooms and onions. I love the potatoes and corn just too much. Gotta set limits. (I know, I'm no fun. But my husband no longer eats potatoes of any kind, and he still loves corn, just didn't want any.)


Reply • Back to Top
Posted by
Darla Hood
on 2/5 at 9:28 am to

Darla Hood

I didn't get too far with the crawfish peeling. Made the mistake of tasting one about 1/3 of the way through the first bag. Tasted my way through to the end.

Took what I'd set aside before I started eating and put it in a little bit of quinoa I'd made (for something else). Decided it was so tasty, that the entire second ziploc bag was peeled and mixed with the quinoa (as well as fat and juices squeezed out of the heads. Added some pine nuts and arugula and the juice of half a lemon.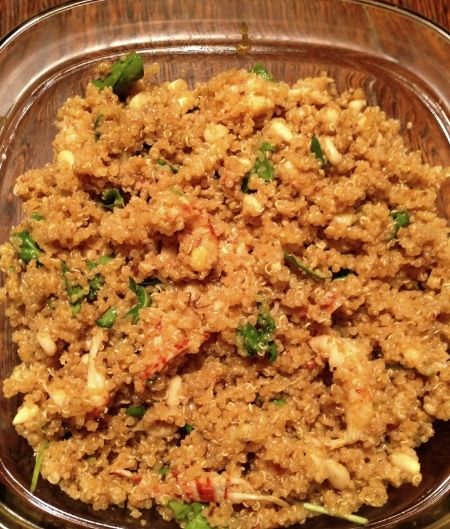 Lunch today is gon b gud.


Reply • Back to Top
Posted by
Kajungee
on 2/5 at 9:39 am to

Darla Hood

Darla,

You did keep the fat out of the heads of all these leftover crawfish right ?

Sorry I should have mentioned this earlier.


Reply • Back to Top
Posted by
MeridianDog
on 2/5 at 9:51 am to

Darla Hood

Now, that looks nice!

Like me some leftovers casserole, Never had to contend with crawfish leftovers, but that looks nice.

Looks nice? I said that once already didn't i?


Reply • Back to Top
Posted by
CITWTT
on 2/5 at 9:58 am to

animalcracker

You must be blind or can't read too good.


Reply • Back to Top
Posted by
Darla Hood
on 2/5 at 9:58 am to

Kajungee

As I am cleaning them, I am keeping the fat. Thanks.


Reply • Back to Top
Posted by
Tiger Ryno
on 2/5 at 9:59 am to

sloopy

Jambali, Crawfish Pie, File' Gumbo!

Sunomeegun, gone have some fun on da bayou!


Reply • Back to Top • Refresh