Message
re: Interesting historical pictures thread (add captions please)
That snowball fight damage photo is GOLD. Laughing for like 5 mintues now.....More like a iceball fight

This post was edited on 2/4 at 7:14 pm

Reply • Back to Top


Ted Williams (left) walking with fellow USMC pilots in Korea, 1953. He had some close calls while flying in Korea.



Common but still worthwhile: Bobby Orr celebrating in mid-air after scoring the series winning goal in the 1970 Stanley Cup



This post was edited on 2/4 at 7:31 pm

Reply • Back to Top
Posted by
GetmorewithLes
on 2/5 at 12:35 pm to

lsewwww

bump. keep this baby going


Reply • Back to Top
Posted by
nolaTiger24
on 2/5 at 1:07 pm to

GetmorewithLes

Well this thread made me complete unproductive the last hour


Great thread


Reply • Back to Top

The HMS Endurance trapped in the antarctic ice, prior to Ernest Shackleton's mind- blowing dash to save his crew in 1916



The James Caird reached South Georgia in early May after sailing 800 miles. With two crew Shackleton walked 32 miles across South Georgia to a whaling boat station.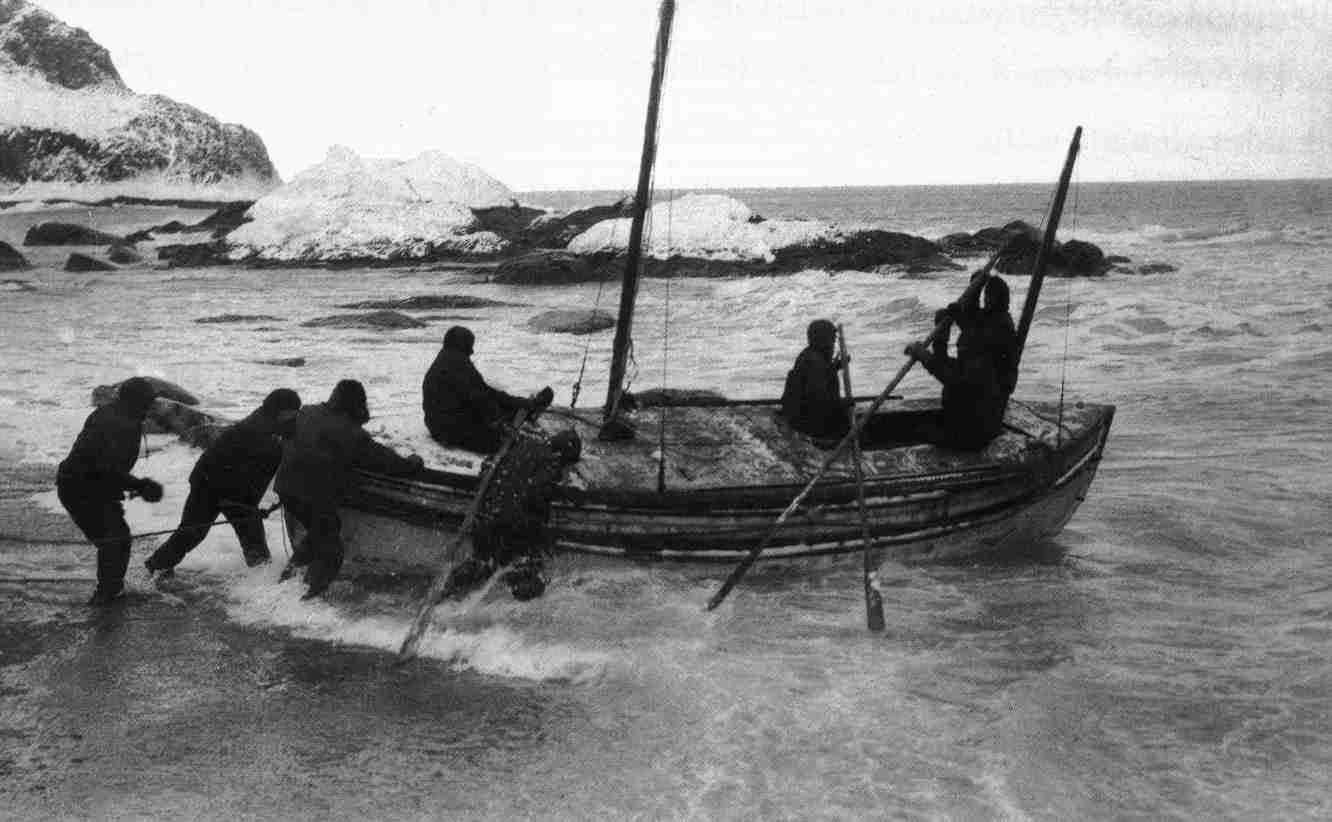 1915 - The ship 'Endurance' frozen in by ice during the 1914 - 1916 expedition to the Antarctic led by Shackleton. Crew members desperately tried to clear the ice with pick axes but the ship eventually froze in and was broken up. Pictured in front of the ship are the sled dogs outside their iced kennels


As I recall, they eventually were forced to eat the dogs.


Reply • Back to Top

Next time you're in the LSU quad, ramble over to the memorial near the flag and look for the name Terry Cordell. He was the first US officer killed in Vietnam and his wife, still alive, is very ill right now.

"Captain Terry Cordell bravely gave his life for his country while defending a Special Forces outpost, Buon Enao complex, (Camp detachment, A-334) on October 15, 1962. It is written that Captain Cordell was an outstanding officer, who had won the loyalty of the Rhade, indigenous tribe. Despite the fact that the area around Camp A-334, had be come a major Vietcong target, Captain Cordell continued to expand the camp project. On October 15, 1962, the Vietcong launched a massive assault on the camp. Captain, Cordell flew over the site in a U-10, in order to direct fire support for the camp. Captain Cordell's aircraft was shot down by the Vietcong and exploded on impact in full view of his loyal Rhade troops. The Rhade troops were so outraged over the loss of Captain Cordell, that they counterattacked and successfully defeated the Vietcong."

He is an LSU alumni.




This post was edited on 2/10 at 9:54 pm

Reply • Back to Top


Last Island, Louisiana:


quote:


---

Last Island (Official name: Isle Dernière, often misspelled as Îsle Dernière, Isle Dernier, L'Îsle Dernière, Île Dernière, etc. ) was a barrier island and a pleasure resort southwest of New Orleans on the south shore of Louisiana, USA. It was destroyed by the Last Island Hurricane of August 10, 1856. Over 200 people perished in the storm, and the island was left void of vegetation. After the hurricane destroyed the island, it became known in the plural Isles Dernières (Last Islands) in French. The highest points were under 5 ft (1.5 m) of water.

Before the hurricane, Isle Dernière (Last Island) was a popular resort where people could enjoy white sand beaches and clearer water, which are not found on the marshy mainland. Last Island was also known for an almost continuous breeze, which would have been welcomed by those escaping the suffocating heat of the mainland. Accommodations included the John Muggah's Ocean House Hotel, and for entertainment there were several gambling establishments and the Captain Dave Muggah's Billiard House.[4] Several hundred yards to the west of the hotel was the settlement known as Last Island Village which consisted of approximately 100 beach homes, some "fine" houses and other temporary summer houses.
Regular steamer service to the island was provided by the Star from Bayou Boeuf, LA. The New Orleans, Opelousas and Great Western Railroad provided a connection to Bayou Boeuf from Algiers, LA, a short ride on the Algiers Train Ferry across the Mississippi River from the French Quarter landing at St. Anne St. Regular railroad fare was $3.50 with half fare for children and servants.[5]
Every structure on the island including the hotel, a large, two-story wooden structure of considerable strength, was destroyed.[6] See: 1856 Last Island Hurricane

---



Reply • Back to Top
Posted by
lilbadness
on 2/10 at 10:00 pm to
Fishwater





Reply • Back to Top
Posted by
Jim Rockford
on 2/22 at 8:04 am to
HeadChange
quote:


---

Chernobyl

---


Hero isn't a strong enough word for those guys. They knew exactly what they were getting into, and that none of them would survive. They went in anyway.





Reply • Back to Top
Posted by
CocomoLSU
on 2/22 at 8:14 am to

Jim Rockford

I'm glad you bumped this...been meaning to go back and finish reading through it.

Awesome thread.


Reply • Back to Top



Adolf Eichmann walking around his cell...






Chicago 1922...woman being arrested for wearing a swimsuit in public







1928...Hitler at nazi party.







1919...stacks of lumber drying








Crowds panic on black Thursday...1929, wall street








1945...Russian prisoner points out nazi guard.








Reply • Back to Top



Reply • Back to Top
Yeah, you know, Rudolph Hess, deputy fuhrer, didn't die until 1987.


Reply • Back to Top
Posted by
Wally Sparks
on 2/22 at 10:49 am to
Duckie


Pope John Paul II signing the 1983 Code of Canon Law, to his left is Cardinal Ratzinger, the future Pope Benedict XVI.


Reply • Back to Top
Rudols Hess, Deputy Führer (1933 - 1941) hopped in a Messerschmitt Bf 110 in March 1941 and flew to Scotland to attempt a negotiated peace with Britain (he did not have Hitler's approval). He was with Hitler during the 1923 " Beer Hall Putsch" and was sentenced to Landsberg Prison with Hitler and the other future Nazi leaders. While there, he helped write and edit Mein Kampf.

Hess and Hitler at Landsberg Prison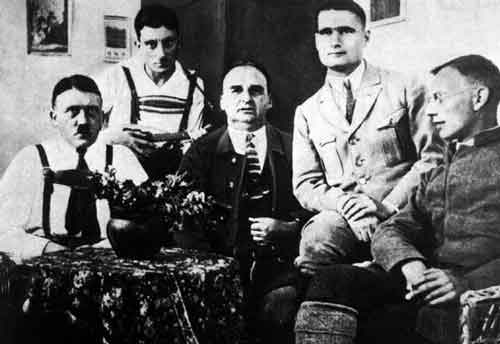 Rudolf Hess, family man




Hitler and his #2, chillin




Hess at the Nuremberg Rally




Hess's wrecked ME Bf 110 in Scotland, March 1941




(L to R) Rudolph Hess, Joachim Von Ribbentrop and Hermann Goering sitting in the defendants' box during the Nuremberg trials. 1946




More Hess at Nuremberg:




Hess was given a life sentence for his crimes and sent to Spandau Prison, in the British sector of Berlin, where he remained until 1987. At the time of his suicide, he was the only inmate in the prison.

Spandau Prison




Rudolf Hess and Albert Speer, together in Spandau.




Several photos of Hess from the 1980s:




Hess's "Summerhouse" on the prison grounds. He hanged himself with an electrical cable, inside this room.



Electrical cable used to hang himself



Ambulance hauling his corpse away.




He was originally buried in this grave, but so many neo-Nazis had turned the grave site into a shrine, including attempts to excavate his corpse, that the family had his remains removed and cremated.




This post was edited on 8/6 at 8:27 pm

Reply • Back to Top
Hitler's brother, Alois, moved to the United States during the 1930s, eventually living on Long Island.

Alois M. Hitler, Jr.




He had a son, William Patrick Hitler, who served in the US Navy during WWII.




The Hitler family home in Patchogue on Long Island.




William Hitler had four sons - Alexander, Louis, Howard, and Brian. Howard died in a car wreck in 1989. He had no children. The remaining three brothers have agreed to never have children so that the Hitler blood line will end.

Alexander Hitler's high school yearbook photo:




Starting top left, going clockwise: Alexander, Brian, Lewis, and Howard Hitler.





Reply • Back to Top
Posted by
Wally Sparks
on 2/22 at 12:38 pm to
HarryBalzack
quote:


---

The remaining three brothers have agreed to never have children so that the Hitler blood line will end.

---


Why? It's not like those kids were the son of Adolf.


Reply • Back to Top
quote:


---

Why? It's not like those kids were the son of Adolf.

---



Reply • Back to Top
Posted by
Darth_Vader
on 2/22 at 12:59 pm to
HarryBalzack

Hasso von Manteuffel

He first joined the German Army in WWI where he was wounded in France. During the interwar year he joined the newly formed Reichswehr (army of the Wiemar Republic) where he was posted to a cavalry regiment. Once WWII broke out he served on both the Western & Eastern Fronts with distinction and even commanded the elite Gossdeutschland Panzer-grenadier Division and was awarded the Knights Cross of the Iron Cross. In 1944 he was given command of the 5th Panzer Army for the German Winter offensive on the Western front in Dec 1944 that has become known to history as The Battle of the Bulge. After the War he went into politics the new West German and even was an honored guest at the Pentagon, lectured at West Point and was invited to the White House by President Eisenhower.


Reply • Back to Top
" Hitler's Children" is a unique documentary film that reveals, for the first time, the ways in which family members of high rank senior Nazi officers from Hitler's inner circle struggle with the burden of carrying a terror-inducing surname.

During detailed interviews, families such as Goering, Himmler, Hoess amongst others, share the feelings of guilt and responsibility that accompany them in their daily lives.

During his detailed and intensive research, director and producer, Chanoch Ze'evi, third generation of Holocaust survivors, was able to convince direct descendants' of members of the Nazi regime to speak with him, thereby creating a in-depth and mesmerizing dialogue that tells the story of the Holocaust from a new and original vantage point.


Reply • Back to Top • Refresh