Message
Balotelli - Mancini


Posted by

BlueMoon
on 1/3 at 8:02 am

Roberto is not happy

More pics
If you are going to get in a fight with your boss, it makes perfect sense to just leave and drive off in your camouflage Bentley.


Reply • Back to Top
Posted by
UASports23
on 1/3 at 8:14 am to
BlueMoon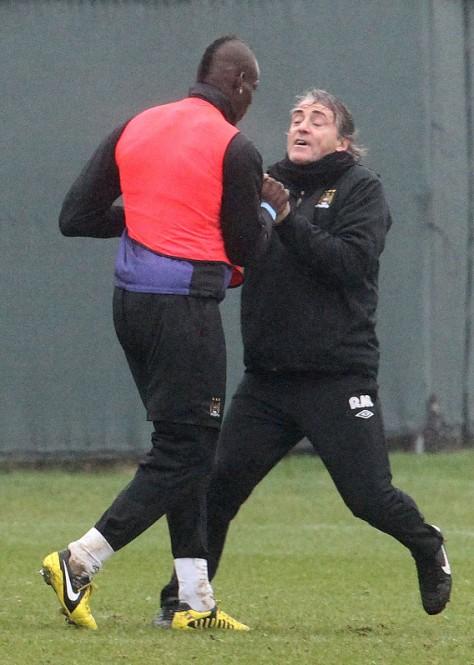 Reply • Back to Top
Posted by
Bho
on 1/3 at 8:20 am to

UASports23

Going all Sprewell on Mancini.


Reply • Back to Top
Posted by
Atom-Z
on 1/3 at 8:27 am to

UASports23

Looks like theyre dancing in that pic



Reply • Back to Top
Posted by
StraightCashHomey21
on 1/3 at 8:43 am to
Atom-Z
quote:


---

Looks like theyre dancing in that pic

---


first thing that came to mind


Reply • Back to Top


that said, there is a father/son element to their relationship because they have been together so long. i wouldn't put much stock into this being a big deal.



Reply • Back to Top
Posted by
Srbtiger06
on 1/3 at 8:58 am to
theOG
quote:


---

as i said before on here, his childish bull shite is getting old. he's a fricking distraction.

that said, there is a father/son element to their relationship because they have been together so long. i wouldn't put much stock into this being a big deal.

---


All of this. He's entertaining to follow and can be fun as hell to watch play but his act is wearing thing on me. I'm beginning to see where people come from when they say "I love him but would hate having him on my team."


Reply • Back to Top
Posted by
StraightCashHomey21
on 1/3 at 8:59 am to
theOG
quote:


---

as i said before on here, his childish bull shite is getting old. he's a fricking distraction.


---


people tend to forget he is only what 22?

Some people don't mature as fast as others frick just look at Lebron.


Reply • Back to Top
Posted by
TFTC
on 1/3 at 9:00 am to

Srbtiger06

What is AC Milan waiting for...


Reply • Back to Top
Posted by
DestrehanTiger
on 1/3 at 9:53 am to
StraightCashHomey21
quote:


---

people tend to forget he is only what 22?

---


At first, I thought this was sarcasm. If he was 18, 19, 20, I'd say that would be a legit argument. But most people have either been working 4 for years or have a college degree by 22.


Reply • Back to Top
Posted by
LSUSOBEAST1
on 1/3 at 9:57 am to

BlueMoon

We'll take him


Reply • Back to Top
Posted by
WarSlamEagle
on 1/3 at 9:59 am to

LSUSOBEAST1

I smell a MLS transfer...


Come to America, Mario, where we will worship you and give you our finest women, sports cars, and fireworks.

No MLS manager is going to piss him off.


Reply • Back to Top
Posted by
WarSlamEagle
on 1/3 at 10:01 am to

WarSlamEagle

Also, best photo in the article...





Reply • Back to Top
Posted by
StraightCashHomey21
on 1/3 at 10:03 am to
DestrehanTiger
quote:


---

But most people have either been working 4 for years or have a college degree by 22.

---


mehhhhh not in todays generation

and like i said look at Lebron he was extremely immature for his age


Reply • Back to Top
Posted by
DestrehanTiger
on 1/3 at 10:03 am to
StraightCashHomey21
quote:


---

and like i said look at Lebron he was extremely immature for his age

---


LeBron never set his house on fire, fought with teammates, or had a physical altercation with his coach.

Mario's actions are pretty extreme.

This post was edited on 1/3 at 10:05 am

Reply • Back to Top
Posted by
StraightCashHomey21
on 1/3 at 10:05 am to
DestrehanTiger
quote:


---

Mario's actions are pretty extreme.

---


b/c he is crazy



Reply • Back to Top
Posted by
theOG
on 1/3 at 10:11 am to
DestrehanTiger
quote:


---

Mario's actions are pretty extreme.

---


agreed. and using his age as an excuse is some weak arse shite.


Reply • Back to Top
Posted by
Friend of OBUDan
on 1/3 at 10:22 am to

theOG

It's more fun to blame Mario, but Mancini looks ridiculous in those pics as well.


Reply • Back to Top
Posted by
theOG
on 1/3 at 10:25 am to

Friend of OBUDan

no doubt


Reply • Back to Top



Reply • Back to Top • Refresh