Message
Pimped garlic bread?


Posted by

AlmaDawg
on 12/7 at 9:38 pm

What all do you like to do to your garlic bread? Normally, I add shredded mozzarella and either shredded or grated parmesan to some garlic clove stuffed French bread. I buy a loaf of that weekly and I eat at least a slice most every night.

Sometimes I make a garlic bread that is almost like a pizza. I take a French or Italian bread half and slice that in half. Add oilve oil, butter and garlic powder and bake in the oven until toasted. I chop green and black olives, fresh garlic, and onion (sometimes brocolli, tomato, mushrooms, bell pepper) in my food processor, adding olive oil and grated parmesan. I spoon this onto the bread, and then top with shredded mozzarella, then heat under the broiler. Sliced with a steak, it is awesome.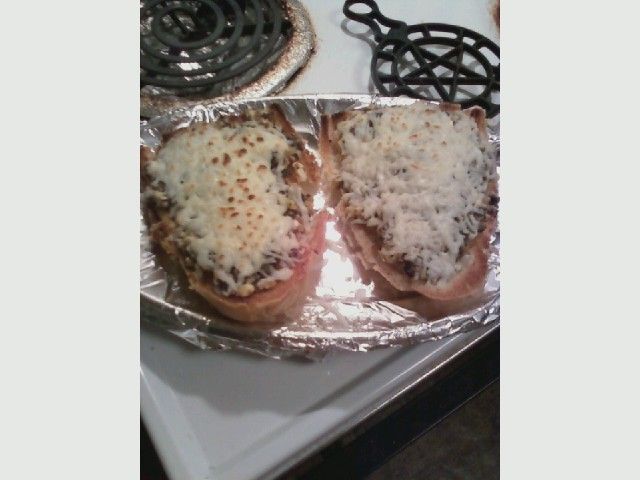 How do you trick out garlic bread?


Reply • Back to Top
Posted by
KosmoCramer
on 12/7 at 9:39 pm to

AlmaDawg

Clean you stove brah.






Reply • Back to Top
Posted by
El Josey Wales
on 12/7 at 9:44 pm to

AlmaDawg

Looks good brotha.


Shake the haters.

I live a low carb lifestyle these days so I don't eat much bread.


Reply • Back to Top



Reply • Back to Top
Posted by
OldTigahFot
on 12/7 at 9:49 pm to

AlmaDawg

Try a little chopped, fresh basil on top.


Reply • Back to Top
Posted by
AlmaDawg
on 12/7 at 9:56 pm to
KosmoCramer
quote:


---

an you stove brah.

---


Did.

This post was edited on 12/7 at 9:58 pm

Reply • Back to Top
Posted by
Lester Earl
on 12/7 at 10:43 pm to

AlmaDawg

My lord you have a horrible diet



Reply • Back to Top
Posted by
Don K Punch
on 12/7 at 10:50 pm to

AlmaDawg

Image: http://cdn.memegenerator.net/instances/400x/31504086.jpg



Reply • Back to Top • Refresh