Message
Cajun Microwave tips?


Posted by

LSUMANINVA
on 5/31 at 1:10 pm

I'm doing another pig in my cajun microwave this weekend for a party at my house. It usually comes out pretty good, but I'm looking for a new "flare".

I usually filled it with garlic cloves and rub it with Tony's.

This will be the first time using my new SmokeDaddy attachment.

Any advice would be great. Thanks.





Reply • Back to Top
Posted by
coverboy
on 5/31 at 1:27 pm to

LSUMANINVA

BB,
We just did two pigs down here a few weekends apart. Each one weighed about 90 pounds. We inject the hell out of it with about a half gallon of goodness. Cajun Injector Creole Butter flavor is the main liquid. We blend jalapenos, garlic cloves, italian dressing, and a few other secret ingredients in there as well. I came across a commercial injector called the "Spitjack" that has a huge needle with it to allow the chunks of peppers and garlic to flow through. We make a helluva mess, but the pig comes out moist and delicious. Hope that helps.
R


Reply • Back to Top
Posted by
LSUMANINVA
on 5/31 at 3:46 pm to

coverboy

Thanks RR...

I might trying brining this one whole but I definitely want to get a hold of this Spitjack you mentioned. I've broken so many injectors.

How long do you slow cook yours?


Reply • Back to Top
Posted by
The Last Coco
on 5/31 at 5:11 pm to

LSUMANINVA

Joffrion's Pig Seasoning Recipe

1- 40 to 50 lb dressed pig
1 - small bottle of e.v. olive oil
1- large bottle of italian dressing
1- small bottle of Garlic Tobasco
1- jar of Garlic Creole- Cajun Injector Marinade
1- large bottle of Crystal hot sauce
1- large can of Tony's C. seasoning or other
1- bottle of Tiger Sauce

Cooking Directions:
In large bowl, empty the jar of garlic creole and garlic tobasco.
Strain 2 cups of italian dressing and add to bowl.
Place split pig (no head) on plastic bag (outside!)
Inject pig with contents from bowl. (shoulders and loin)
Coat pig with olive oil, then coat with crytsal hot sauce.(Use 1/2 bottle;don't be shy)
Sprinkle with Tony's C seasoning. Place in plastic garbage bag overnight in fridge.

Place pig skin down. Pour whole bottle of tiger sauce & 1/2 bottle crystal sauce on pig.
Cook for 3 hours and don't open da top.
Change coals. Flip pig over, skin side up. Cook for 2-3 hours.
Pull cooked pork and serve in tray. Don't foget the skin-cracklin!

Ummmm Dat's Good Sher!


Reply • Back to Top
Posted by
LSUMANINVA
on 6/1 at 7:54 am to

The Last Coco

Thanks Coco!


Reply • Back to Top
Posted by
CITWTT
on 6/1 at 7:57 am to

The Last Coco

Why no head?


Reply • Back to Top
Posted by
The Last Coco
on 6/1 at 8:11 am to
CITWTT
quote:


---

Why no head?

---

It gets in the way. With my Cajun microwave dimensions, you can only really cook a 30ish pounder with a head on, but can get a 50-60lb pig in there headless.

If anybody wants some plans for how to build a cajun microwave (1 sheet of plywood + a steel roasting pan), hit me up at TheLastCoco@gmail.com. It is stupid easy to build and breaks down pretty flat for storage. It won't win any beauty contests but it'll cook a pig.
The microwave


The results (small guy, so the head was left on)





Reply • Back to Top
Posted by
BugAC
on 6/1 at 8:16 am to
The Last Coco
quote:


---

The Last Coco

---


emailing you now


Reply • Back to Top

We keep the air temp between 325 and 350 and it takes about 3 minutes per pound to get to a safe 175 internal temp in both rear hams. We let it get up to 185 or 190 and it still comes out juicy as hell. Lately after we take the pig out, we've been "pulling" alot of it and mixing it with BBQ sauce. The loins/backstraps typically roll out with ease and IF that meat makes it to the serving table before the cooks get a hold of it, they get sliced up for serving.


Reply • Back to Top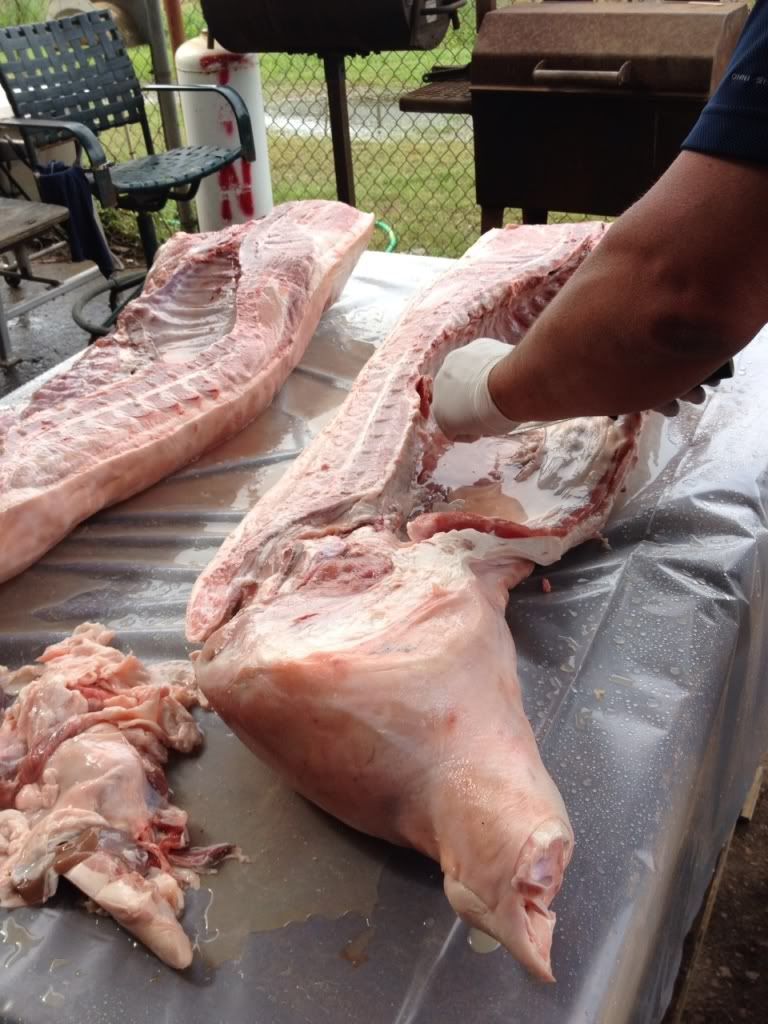 [/img]


[/img]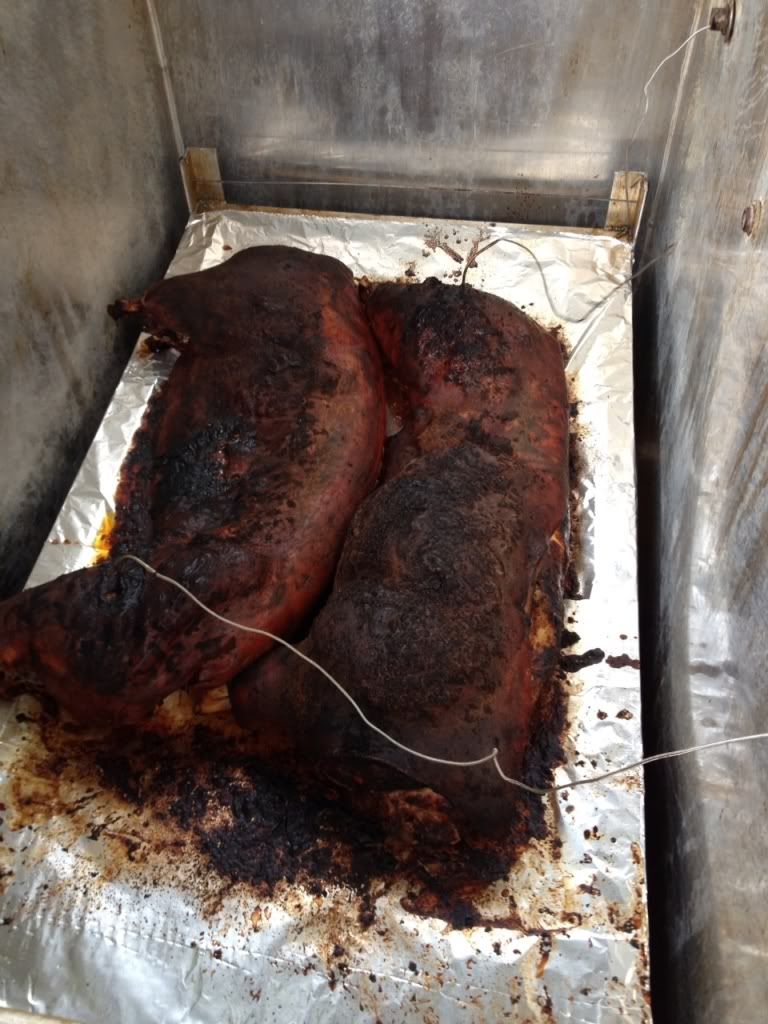 [/img]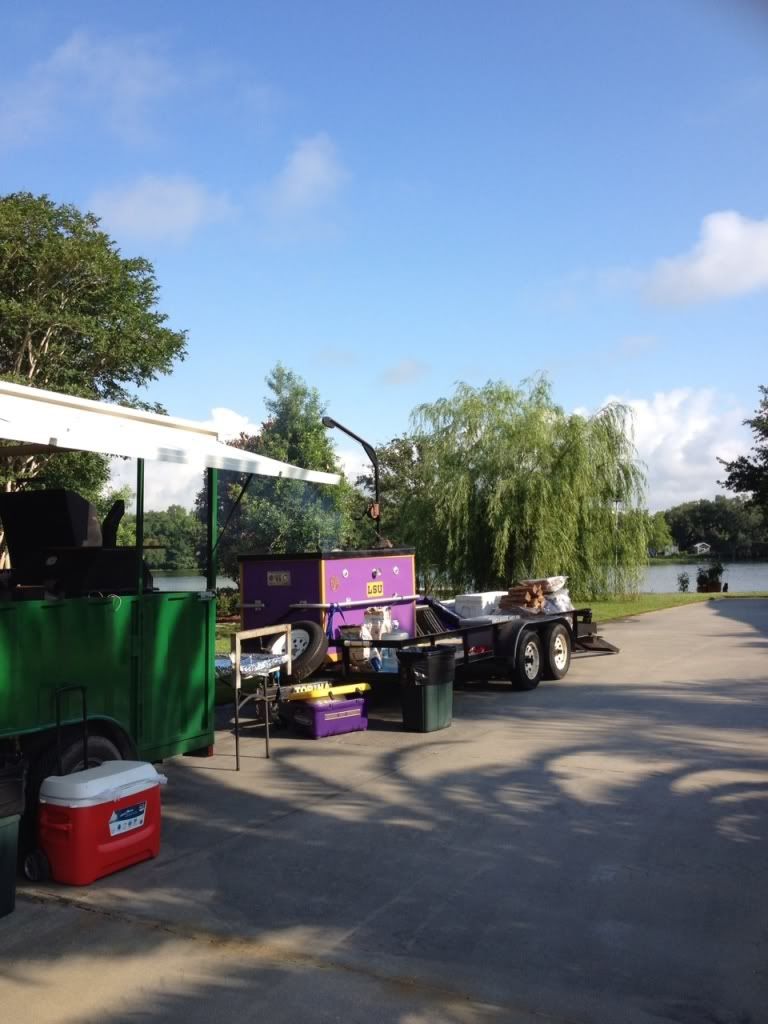 [/img]


Reply • Back to Top
Posted by
The Last Coco
on 6/1 at 10:37 am to

coverboy

Damn. Your set-up is top notch. I can't imagine doing a 90lb pig. Props to you.


Reply • Back to Top
Posted by
coverboy
on 6/1 at 10:42 am to

The Last Coco

Biggest we've done is 120. 60# per half.


Reply • Back to Top
Posted by
Count Chocula
on 6/1 at 10:42 am to

The Last Coco

We pour a 2 liter bottle of coke on the skin about 30 to 34 minutes prior to being done. Sugar crisps the skin up just right. Other than that, your recipe is our, give or take.


Reply • Back to Top
Posted by
LSUMANINVA
on 6/1 at 12:41 pm to

coverboy

Nice pics RR.

How's MC?


Reply • Back to Top
Posted by
coverboy
on 6/1 at 2:03 pm to

LSUMANINVA

Same.


Reply • Back to Top
Posted by
LSUMANINVA
on 6/1 at 2:29 pm to

coverboy

How's your mom and dad?


Reply • Back to Top
Posted by
coverboy
on 6/1 at 2:32 pm to

LSUMANINVA

He comes in for a few hours most days. She stays home planning their next vacation.


Reply • Back to Top
Posted by
LSUMANINVA
on 6/1 at 2:53 pm to

coverboy

Do you enjoy running the shop?

Got any openings for an LSU flunkie? My oldest just lost a 90K Army ROTC scholly. He wants to enlist but I'm trying to make sure he looks at different options before he makes his final decision. He's a hard, physical worker...big kid...he just hates school, at least for now until he gets a clue(hopefully).


Reply • Back to Top
Posted by
coverboy
on 6/1 at 3:40 pm to

LSUMANINVA

We actually need someone ASAP to work in the shop. Starting as a helper/operator and learning to run the machines outside eventually.

Enjoy running the shop? It has its moments.
Although BP still has us in financial recovery mode.


Reply • Back to Top
Posted by
LuckySo-n-So
on 6/1 at 5:25 pm to
LSUMANINVA
quote:


---

tips

---


Once with about a 40 lb pig, I stuffed the belly full of Manda Sausage (you can use whatever you like) and sewed the belly up. When you are carving it open, it looks like its intestines are spilling out. And the sausage is delicious.

It's nothing super spectacular, but cool to do once or twice.


Reply • Back to Top • Refresh