Message
Homemade Iced Coffee Recipe


Posted by

BritLSUfan
on 5/1 at 5:33 pm

So the temps are in the high 80's, it's time to switch from an afternoon cappuccino to an iced coffee. After a few experiments I ended up with these quantities that make a nice large glassful.

Ingredients (serves 1)
2 oz freshly made espresso
3 oz 1/2 and 1/2
Raw Cane Sugar to taste ( I used 3/4 teaspoon)
Dark Syrup

Method
Fill large glass with ice
Add 3/4 teaspoon raw cane sugar and 1/2 teaspoon syrup to a cup that will receive the espresso
Brew espresso onto sugar and syrup
Stir and pour onto ice filled glass.
Add 1/2 and 1/2 and stir.
Optional: Garnish with whipped cream and syrup.

Repeat until coffee craving is satisfied.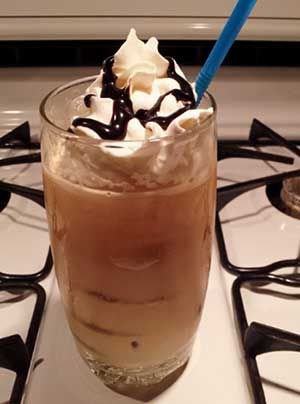 Reply • Back to Top
The only correct way to make ice coffee is to cold brew it overnight.


Reply • Back to Top
Posted by
madamsquirrel
on 5/1 at 5:47 pm to

Zappas Stache

the pioneer woman dot com
has a really good recipe


Reply • Back to Top
Posted by
BritLSUfan
on 5/1 at 5:53 pm to

Zappas Stache

I agree, however for those who didn't prep ahead of time


the above works pretty well and certainly hit the spot for me.


Reply • Back to Top
Posted by
andouille
on 5/1 at 6:52 pm to

BritLSUfan

Ok, that sounds very good, thanks for the recipe.


Reply • Back to Top
Posted by
TypoKnig
on 5/1 at 10:50 pm to

BritLSUfan

Recipe sounds good. Not to hijack but I have a cold coffee related question.

I am looking to cold brew some French Market Coffee And Chicory for iced coffeeshave. What proportions of coffee and water do you guys typically use to cold brew?


Reply • Back to Top
Posted by
BritLSUfan
on 5/2 at 6:57 am to

TypoKnig

This LINK suggests 1lb of coffee to 2 gals water, adjust to taste.


Reply • Back to Top
Posted by
VOR
on 5/2 at 7:15 am to

BritLSUfan

My go to method is to use the "Toddy" brand cold drip maker. They're available around most towns.

1 lb coarsely ground Viennese blend
Fill half way and allow to soak for a few minutes and then slowly fill up to the top.
Allow to stand 12 hours or so.
Drain into decanter
For each glass mix the extract with water to taste. I do about 2 parts water to 1 part extract.



Reply • Back to Top • Refresh
Message Boards
Other Options
SECRant.com Links
Geaux.com Dining Guide
Site Features (Full Version)