Message
Check out my LSU Collection


Posted by

olegreg
on 9/25 at 6:30 pm

Figured Id share some of my collection with fellow tiger fans after seeing a few buddies like Chris (Theantiquetiger) and get positive results. I know a few of these things arnt that unique seeing as how some people might have a few of them, but for the most part, I think my collection isn't like the average collection with the things I own. For that reason I don't have my signed baseball collection, and things most normal collectors or fans would have in this post.(This will take a few posts b/c the amount of items im inluding.)
I know my things arnt framed also, but I can only do so much while in college lol. Let me know what yall think, opinions and comments are appreciated.Thanks

2007 team signed helmet. Has 60 autos



Flynn, Hester, and Cannon signed jerseys. Tittle throwback jersey.The cannon jersey now is signed by several other 58 champ members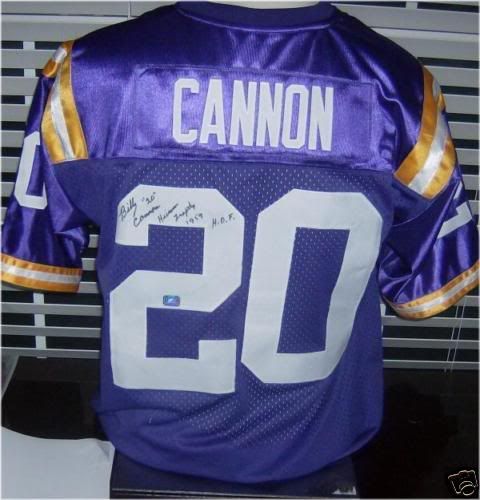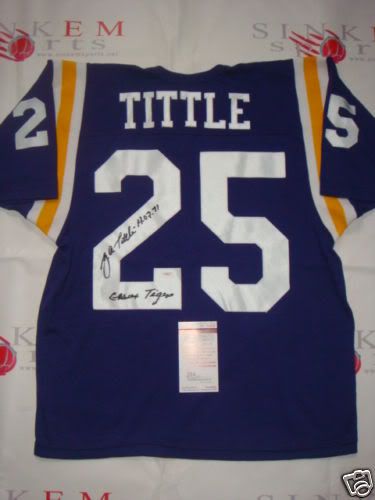 2007 perry riley game used helmet. The picture only shows a few autos at the time of the picture. Now I have 40+ on it



2007 Tiger Rag commemorative issue that was never released given to me by the editor



2009 cws champs signed base



2009 super regional ticket signed by some of the team



2009 cws signed 16x20



Sport magazine signed by Dietzel and later I had it signed by cannon



58 lsu vs Clemson lsu version pin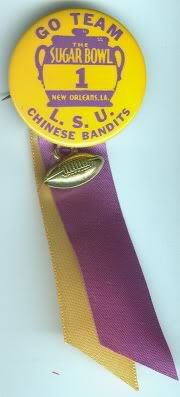 58 clemson vs lsu Clemson version pin



Few other pins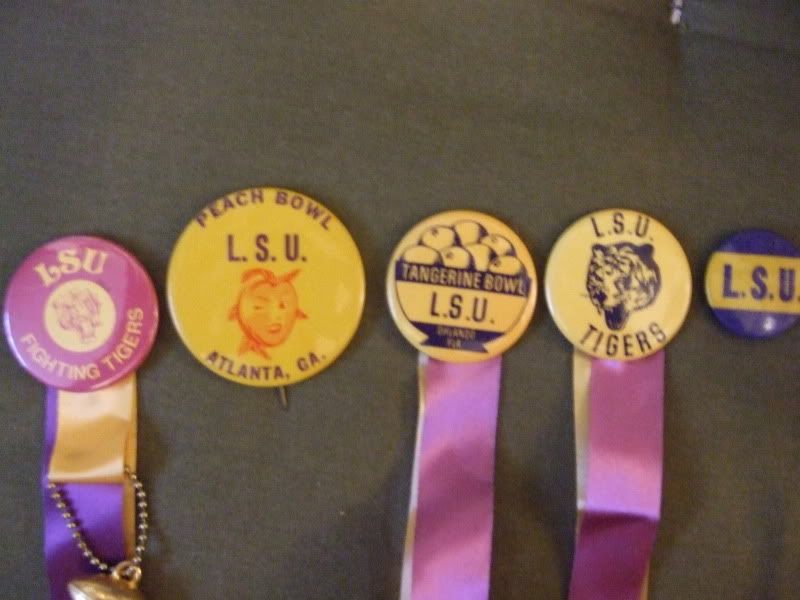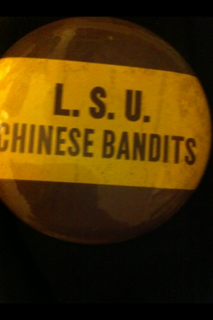 Original wire photo signed by Dietzel



Sean Ochinko game used signed 2009 gloves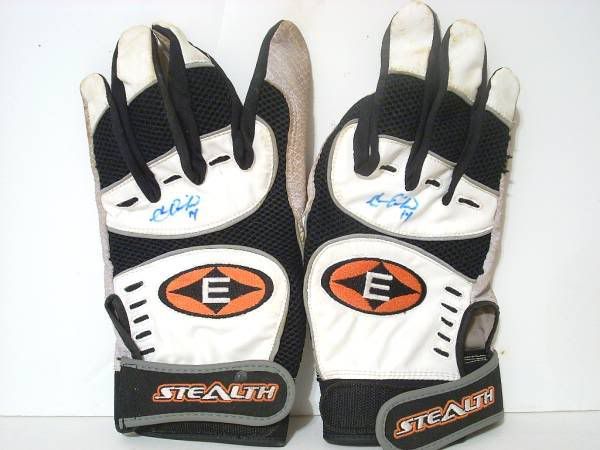 Billy cannnn kickoff magazine, football yearbook, strength and health all later signed by billy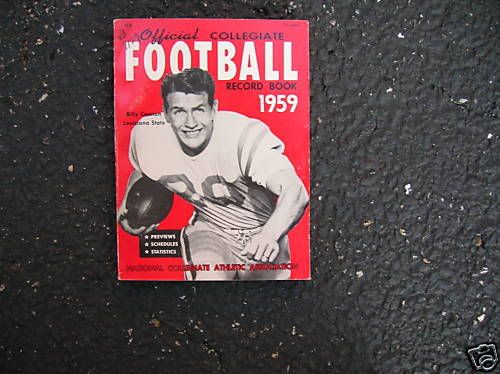 1900s tobacco silk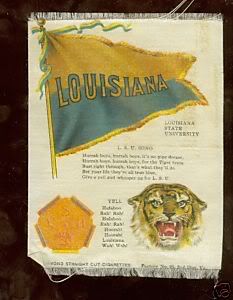 Billy cannon fleer graded rookie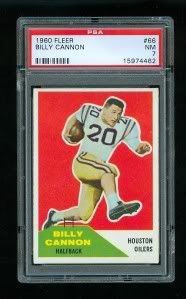 The two versions of Billy cannons Halloween run on record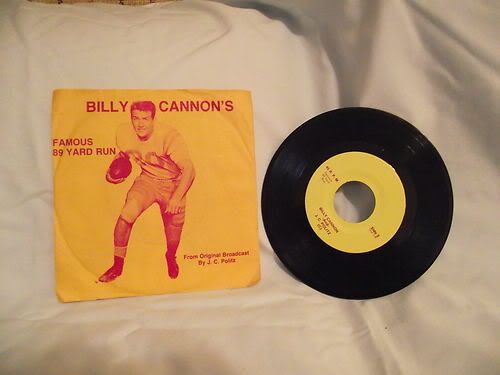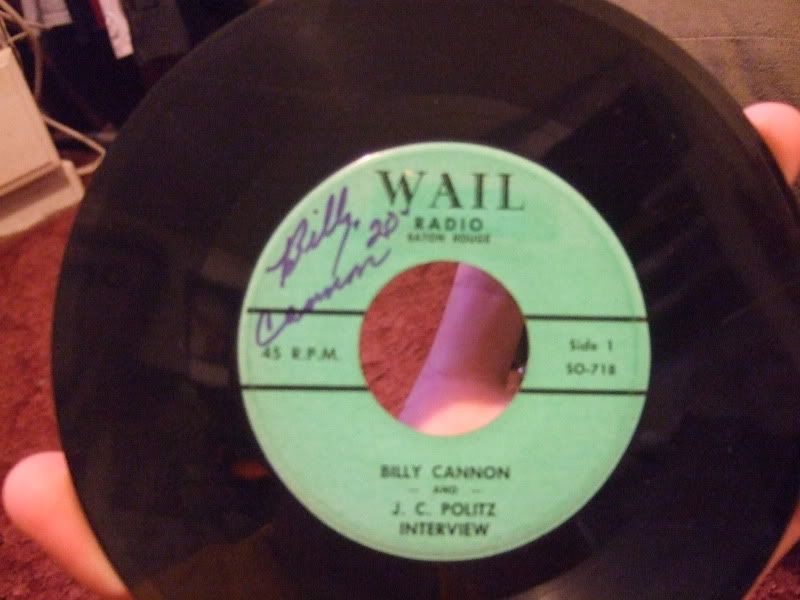 Cholly mac signed 1979 Birmingham touchdown club poster along with all other sec coaches that year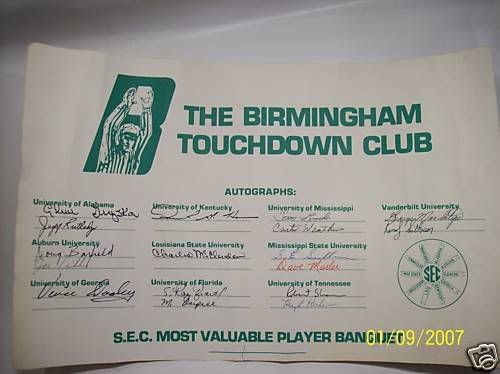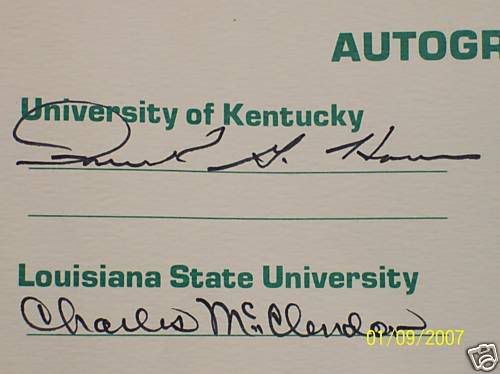 1990s unused batting practice jersey I got signed



Todd walker game used bat



Some of my pennants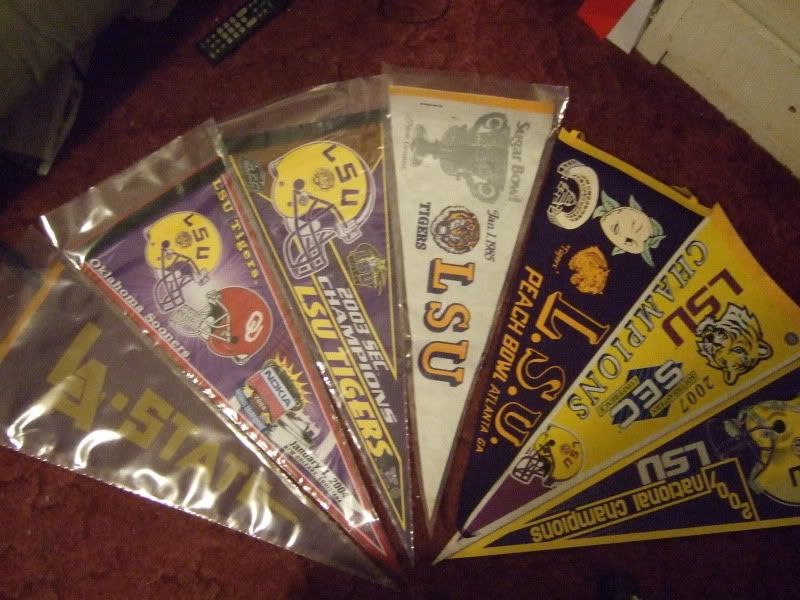 This post was edited on 6/4 at 11:24 am

Reply • Back to Top


Several signed pics of the 2010 baseball team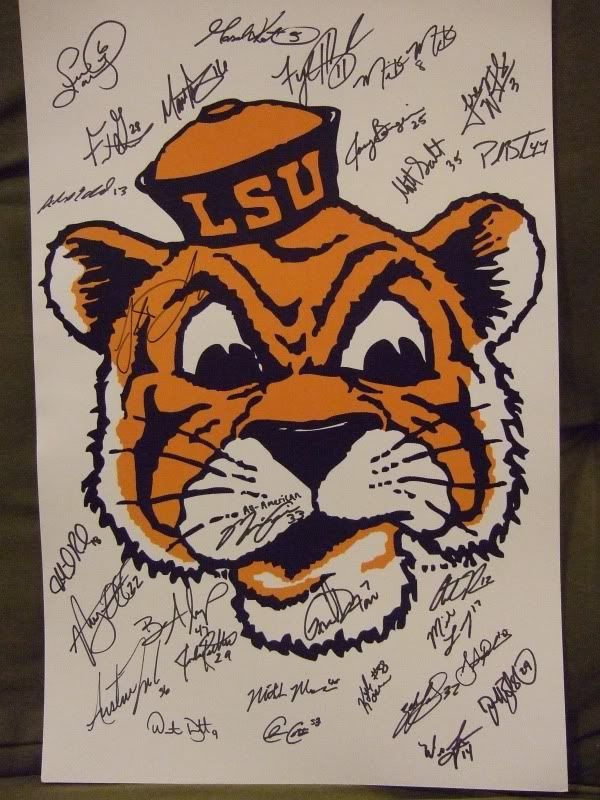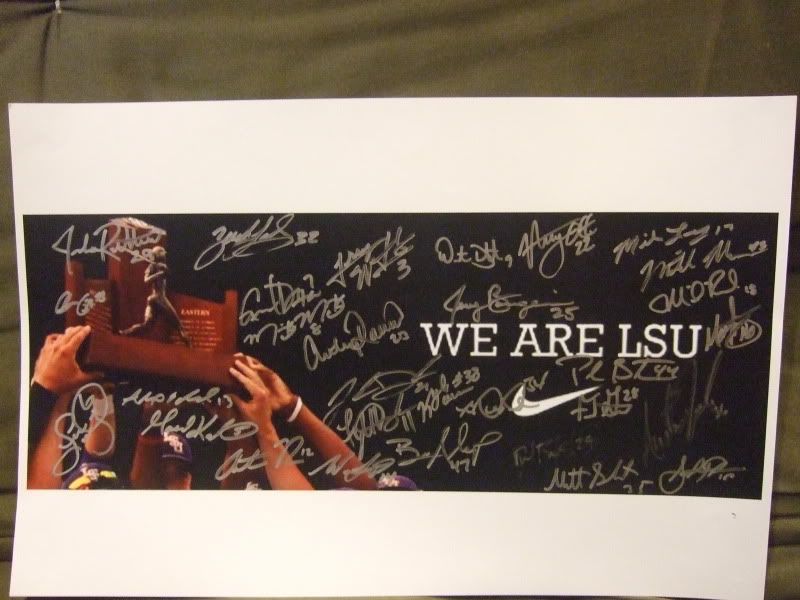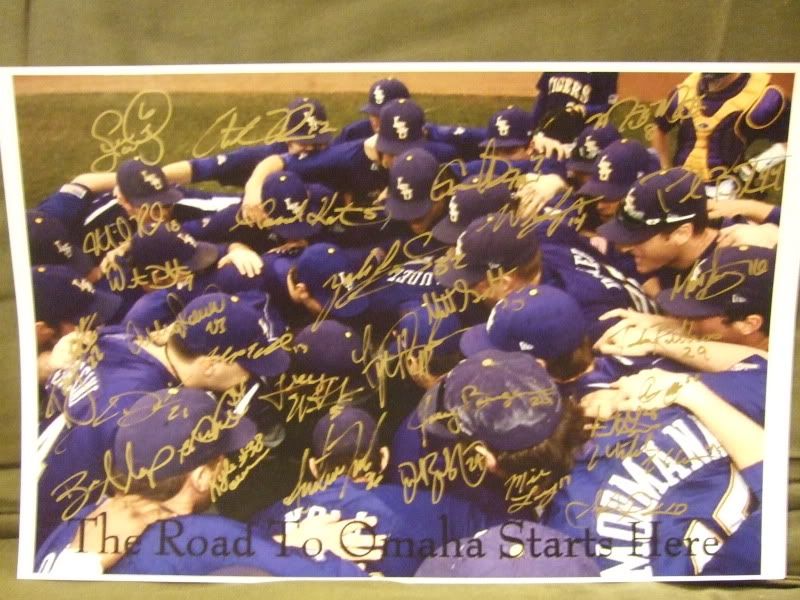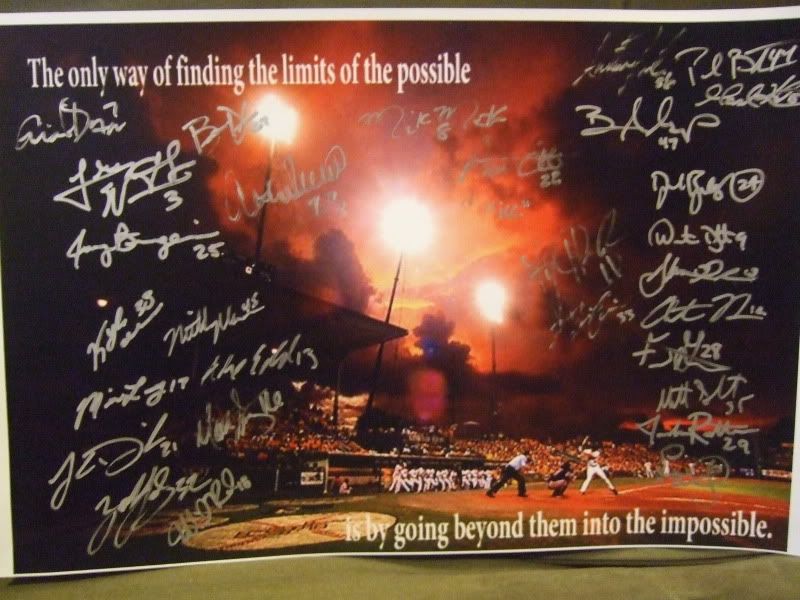 Game ball



2008 Chad jones throwback uni, only one ever, each player only had one to used for a few games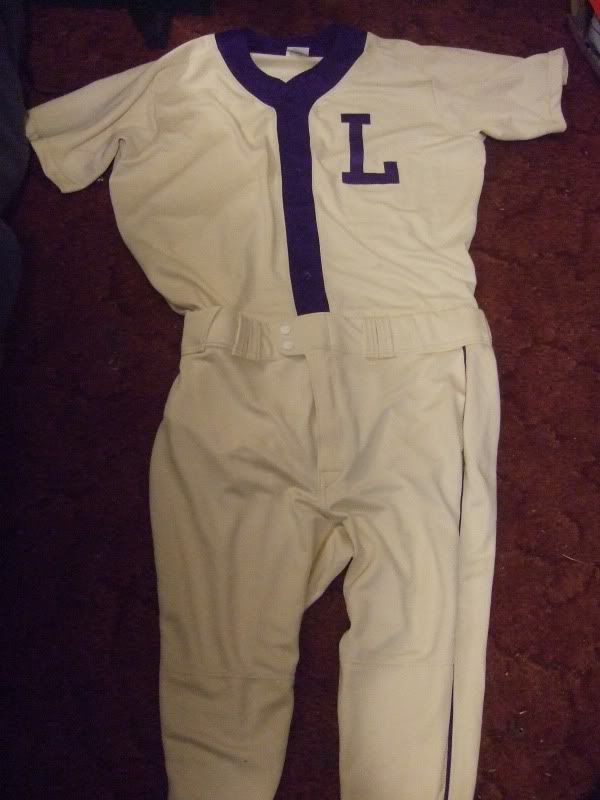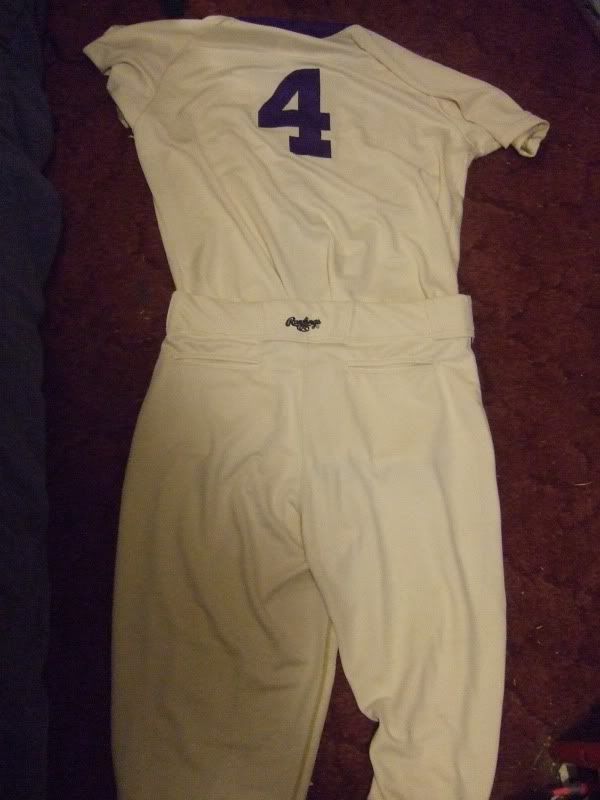 2007 chevis Jackson game used home jersey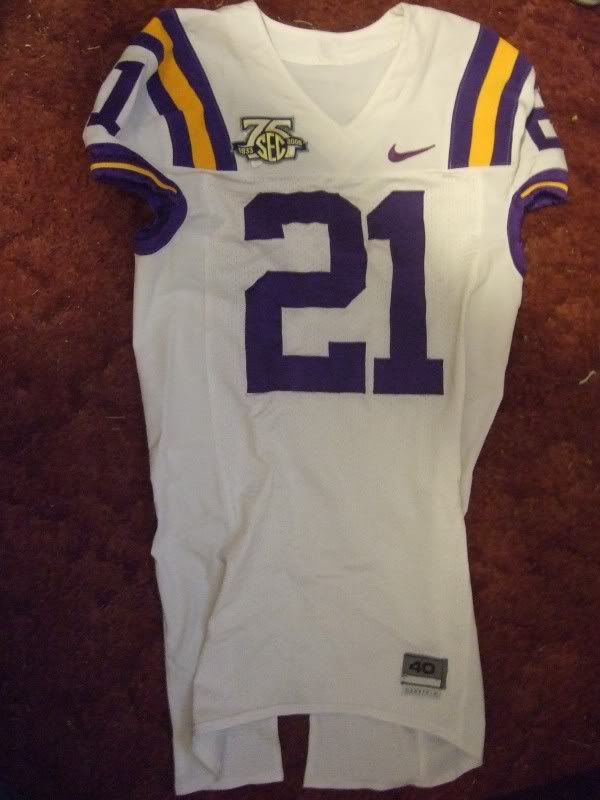 2006 jonathan zenon game used away jesey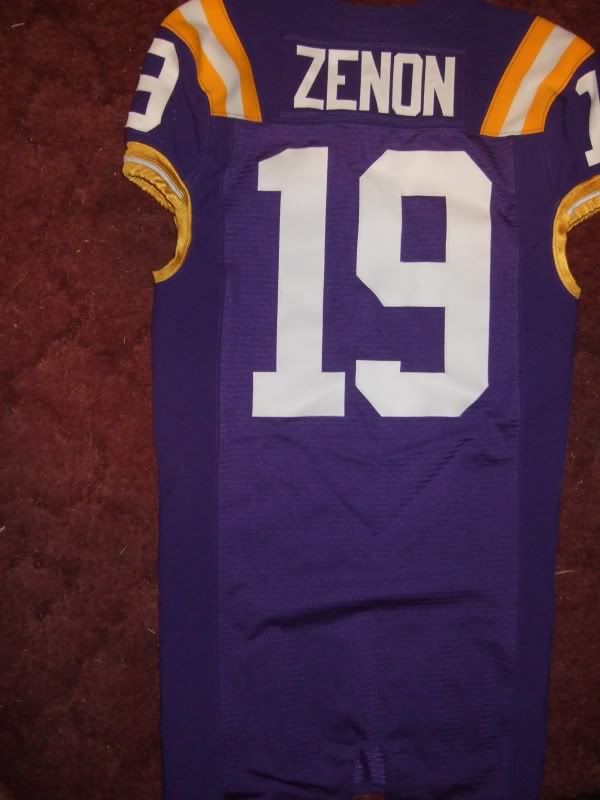 Game used signed blake dean ball


Game used batting helmet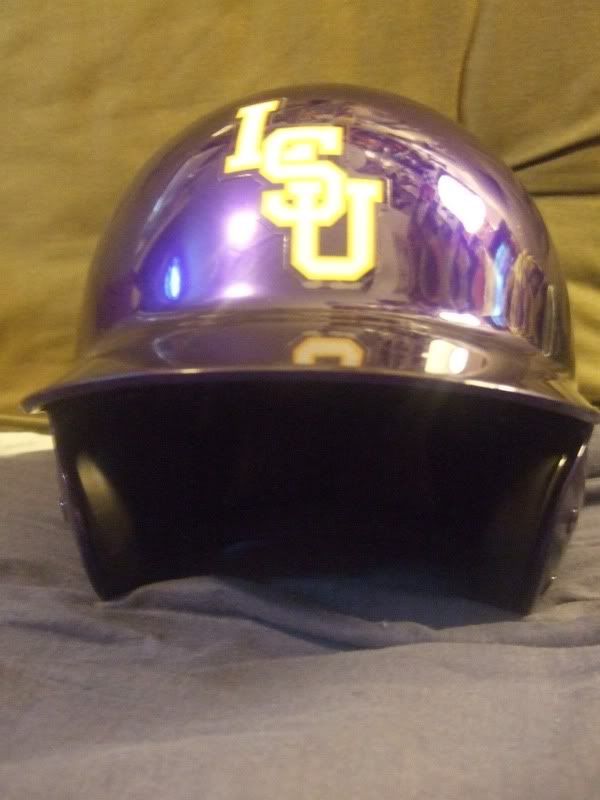 2008 game used buzzy haydel gold jersey



2010 micah gibbs game used gloves that he gave me after the Alabama series



Original 1890s LSU cadet photo in original frame



The only decanter I own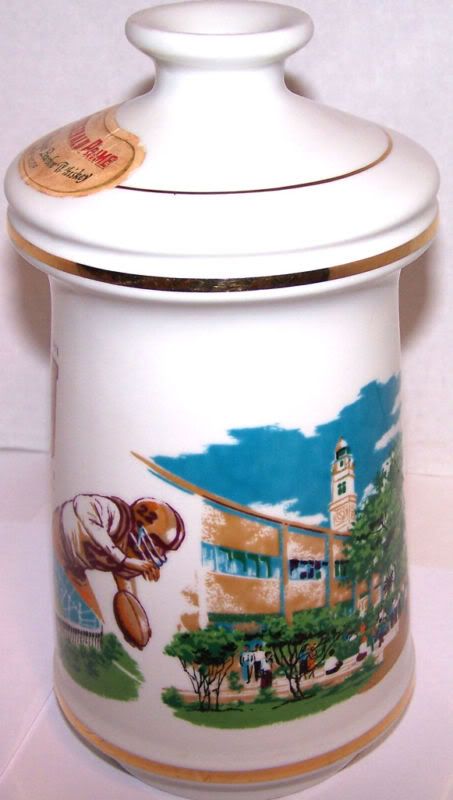 Before and after of a team usa game used bat that I got mikie mahtook to sign and inscribe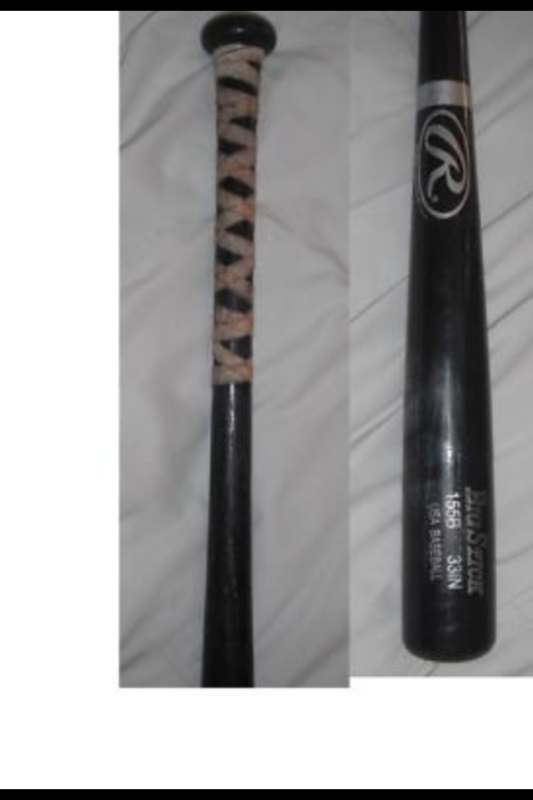 One of my most prized possessions. My full ticket from LSU vs Ole Miss in 1959 when billy made his famous run on Halloween night. The andonie museum believes they have the only unused ticket which was donated to them. They have a nice large poster telling the story of the "only" one. I think its pretty cool that I own the only other known one. The second photo is of my 1958 national championship ticket stub and 1958 lsu vs rice stub, the first game of our championship season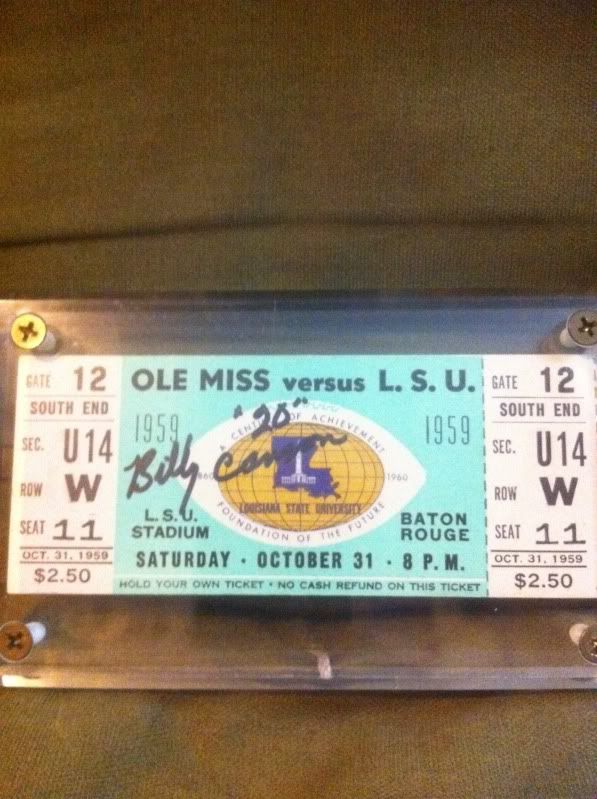 Signed large Jim taylor poster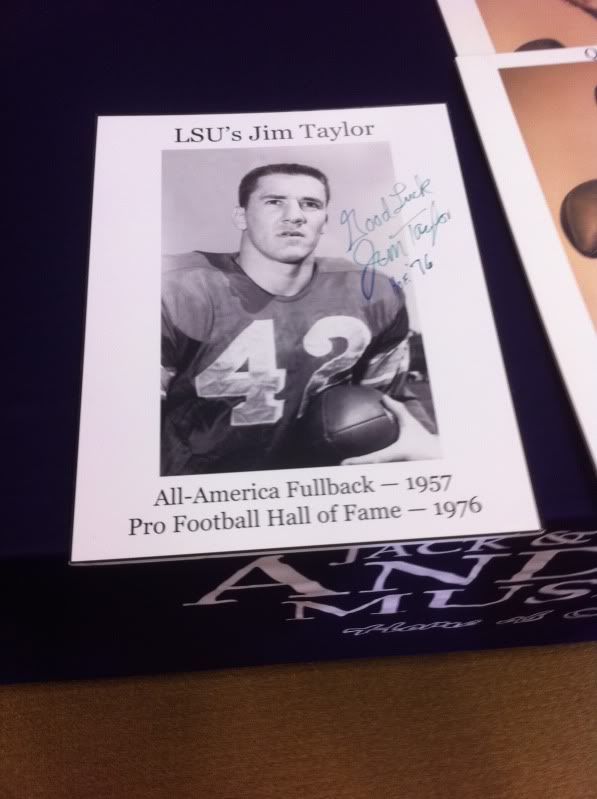 Matty ott signed ball that I had him inscribe along with a pitchers rubber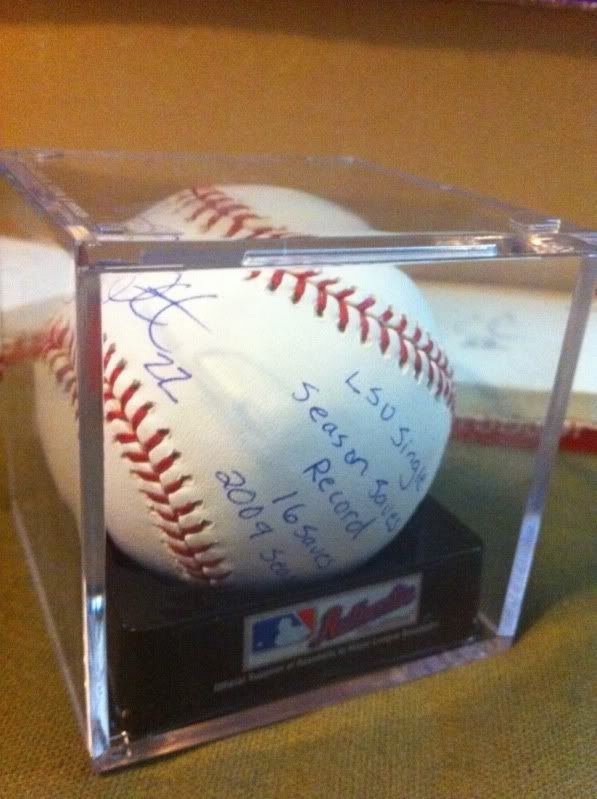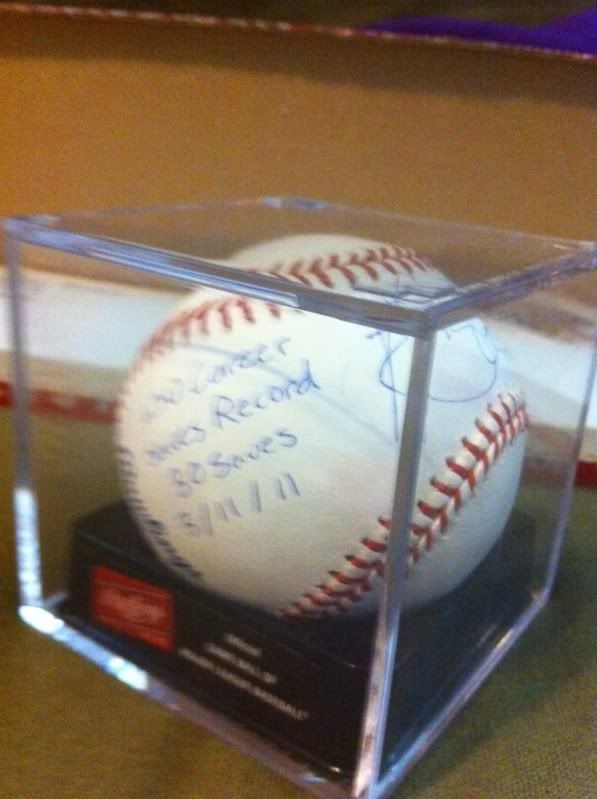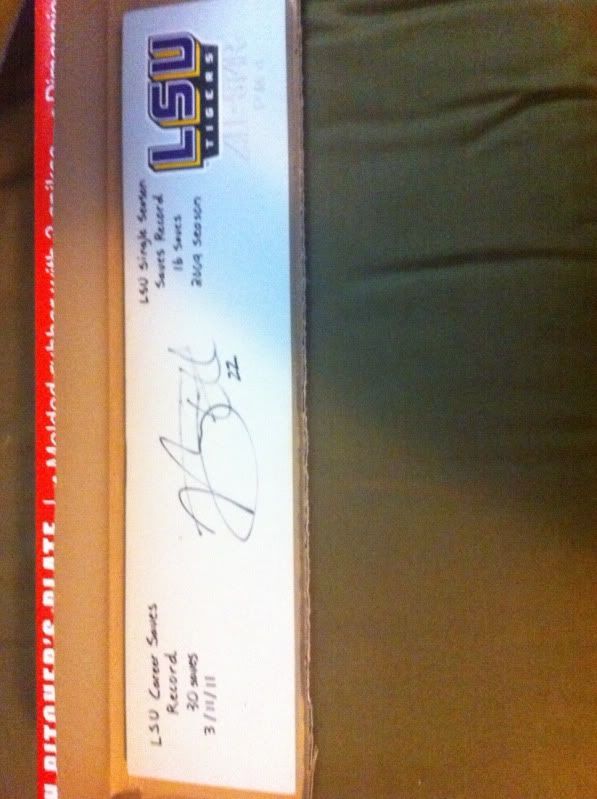 1926 Advocate LSU victory over Tulane, whole newspaper



Billy cannon signed postcard from his gas station



Several 1958 Signed 8x10s and 11x17s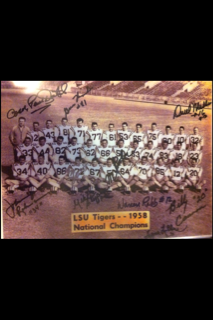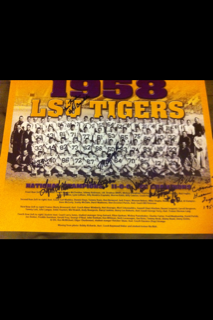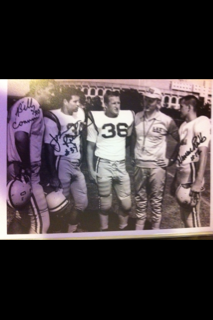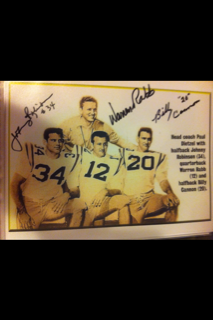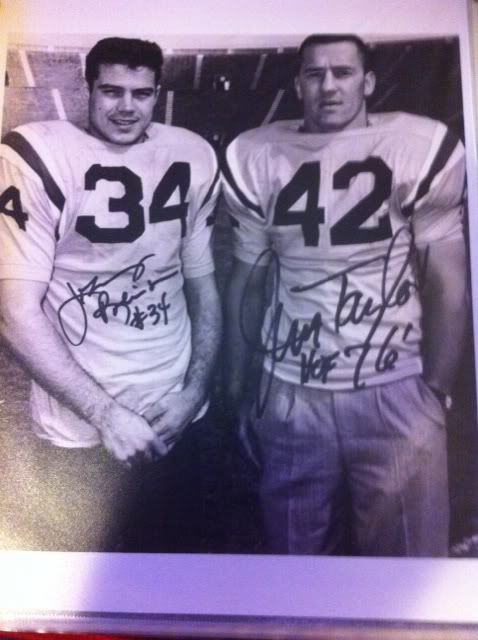 These are pretty cool. 1996 CWS commemorative tickets that were supposed to be given out to ticket holders at the game. But the idea was scrapped before the game and I know the person who owns the entire box of them and he gave me a few.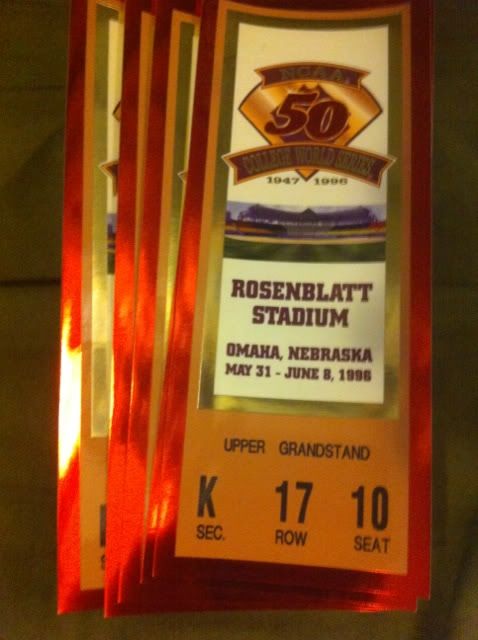 All Americans signed poster, I have a helmet and football also but no pics



These 3 are all original press wire photos of billy that I had him sign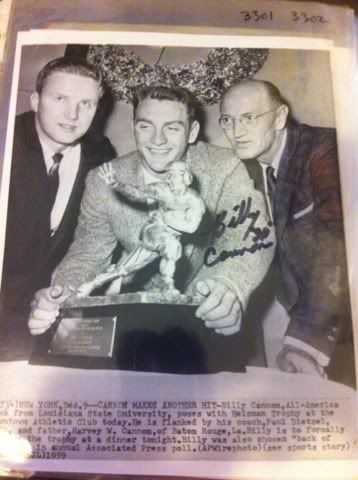 1940s ya tittle signed 8x10





Reply • Back to Top
Posted by
Wolf Shirt
on 9/25 at 6:31 pm to

olegreg

Cool. Cant see some of the pics though


Reply • Back to Top


Now this is my jim taylor rookie card. As some may know, this is not his photo and he refuses to sign it 99% of the time. Ive only see 3-4 cards in which he signed the front of the card accompanied by "error card" inscribed very big. He signed mine on the back as he has done with just a few more than on the front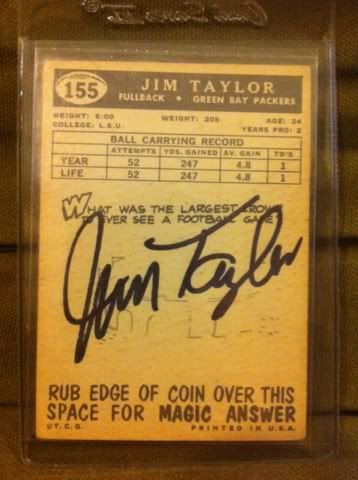 Billy cannon signed rookie cards



My billy cannon vintage childrens football gear. Took me some time to piece together all the parts. I have everything except the box. I have the original football, shoulder pads, helmet, and ad from 1961.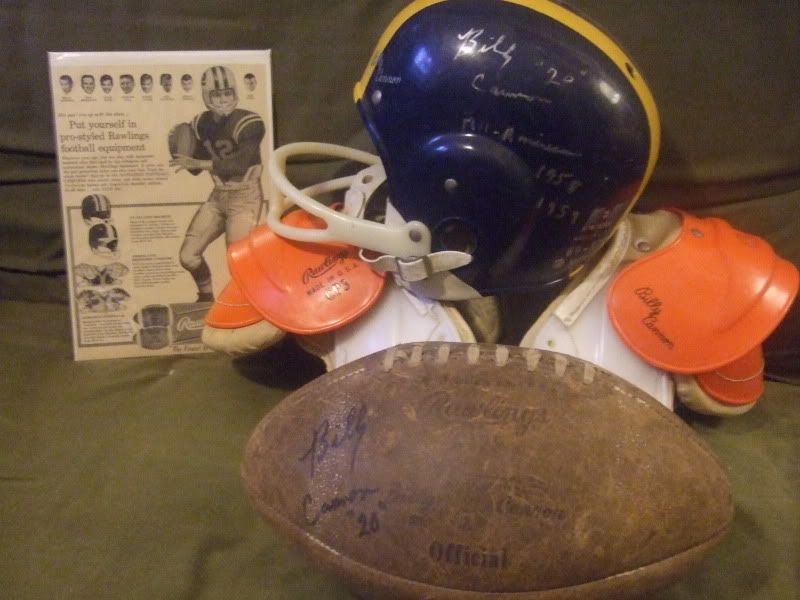 Jim taylor and ya tittle player endorsed childs helmet that I had signed,along with their matching footballs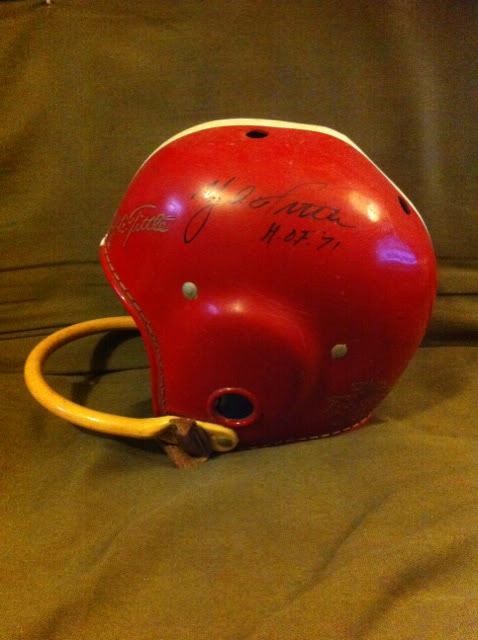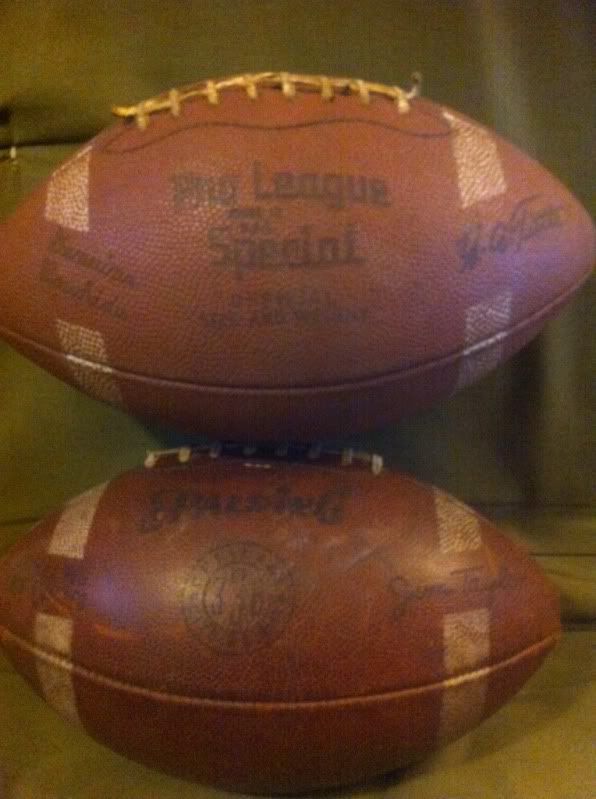 Signed programs and mags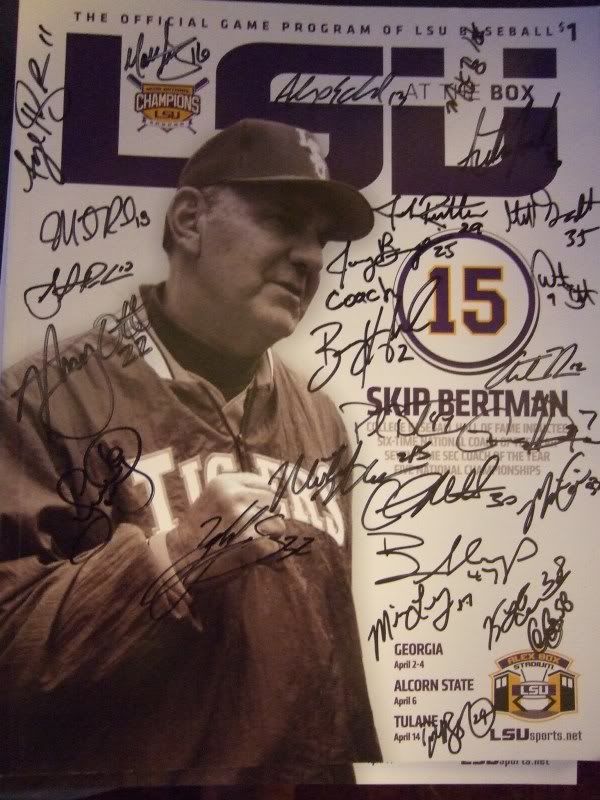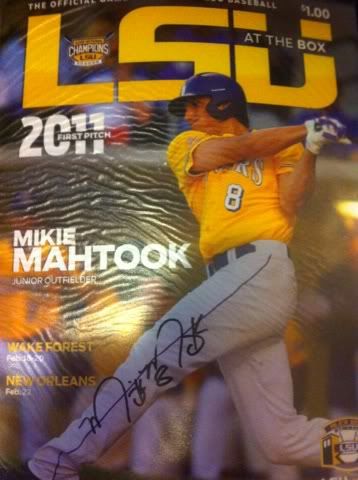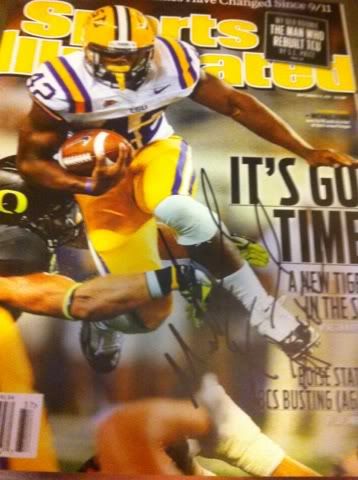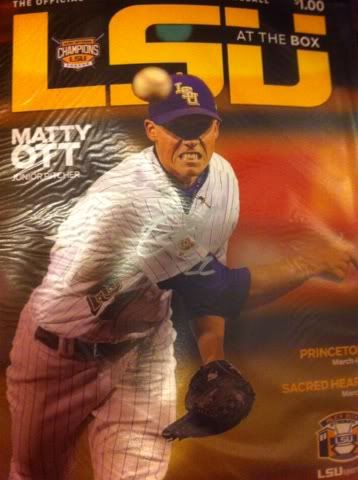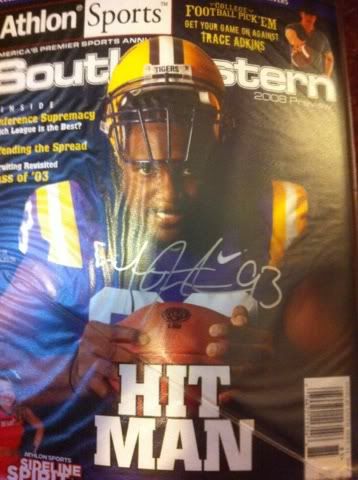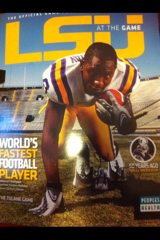 My replica win stick signed by multiple lsu greats including: jim taylor, Johnny robinson, billy cannon, tommy Casanova and plenty more

Paul Dietzels Chinese bandits.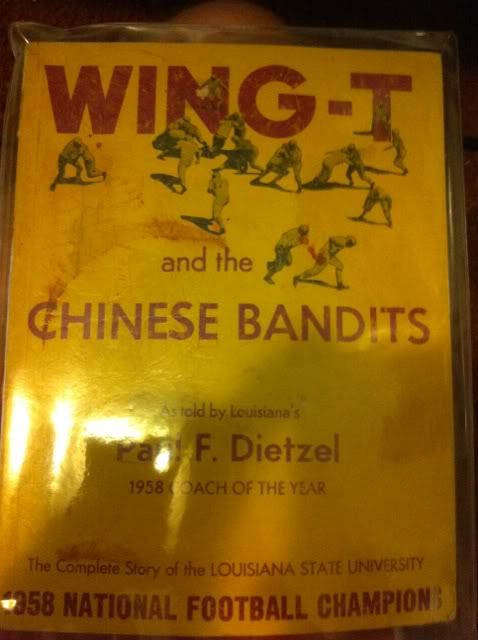 Original press wire photo of Pete and Press Maravich

My fav lsu baseball tickets. Top left: skips last game. top right: ticket signed by wes grisham. Below that one is lsu vs rise superregionals 2009 signed by some of the team. Bottom: 2009 cws tickets, some signed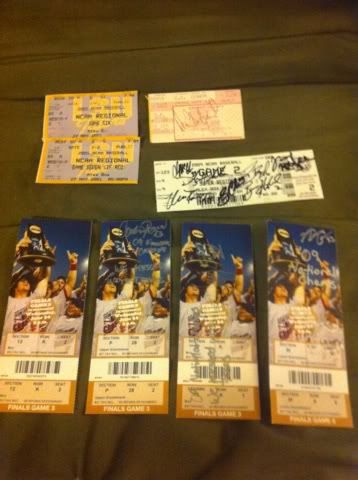 1997 game used football signed by Kevin faulk and a ticket, photo pass, and sports illustrated from the 97 game against Florida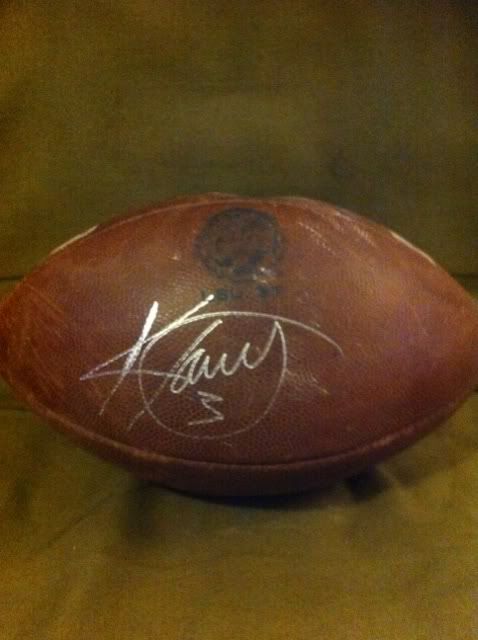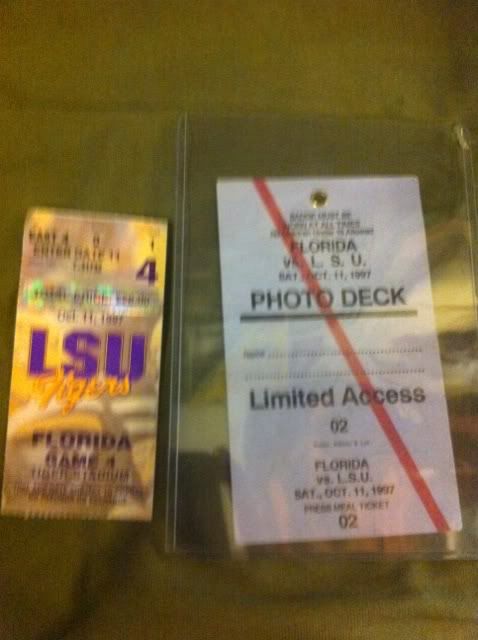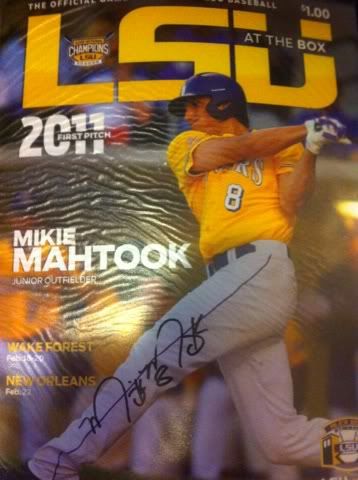 Alex box seat bottom signed by the 2010 team. I also have a set of seats, bleachers, dirt, and other things.



Alex box signed prints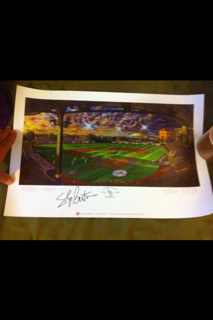 D Byrd signed prints of "the catch"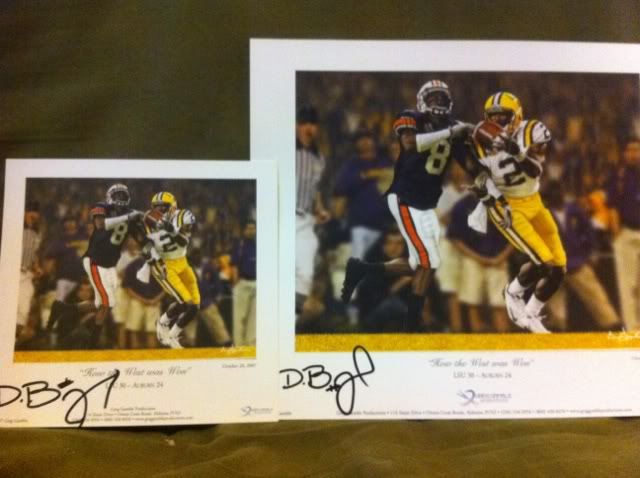 Kevin gausman signed team usa lettermens. And 1/65 Q&A team usa of gausman



Non LSU items
Buzz Aldrin Signed moon photo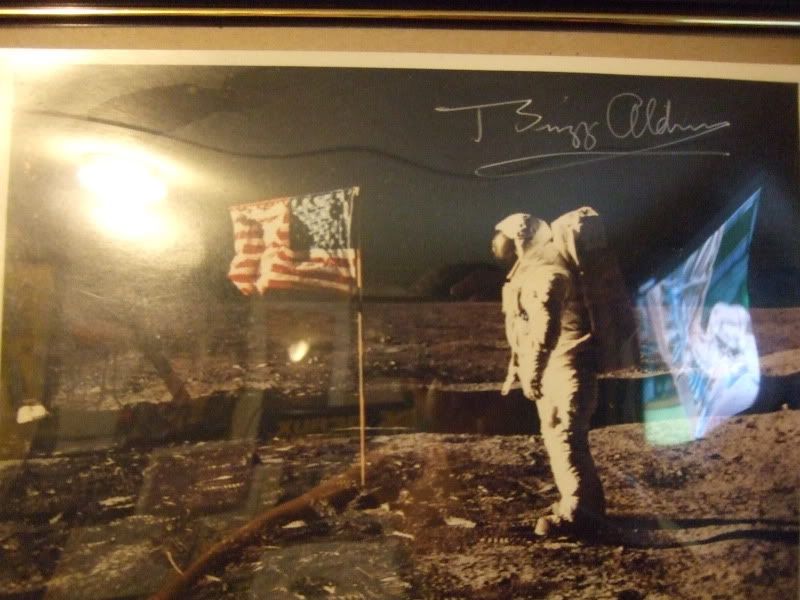 Game used signed marques colston cleats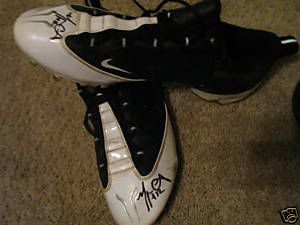 Game used signed Jonathan vilma cleats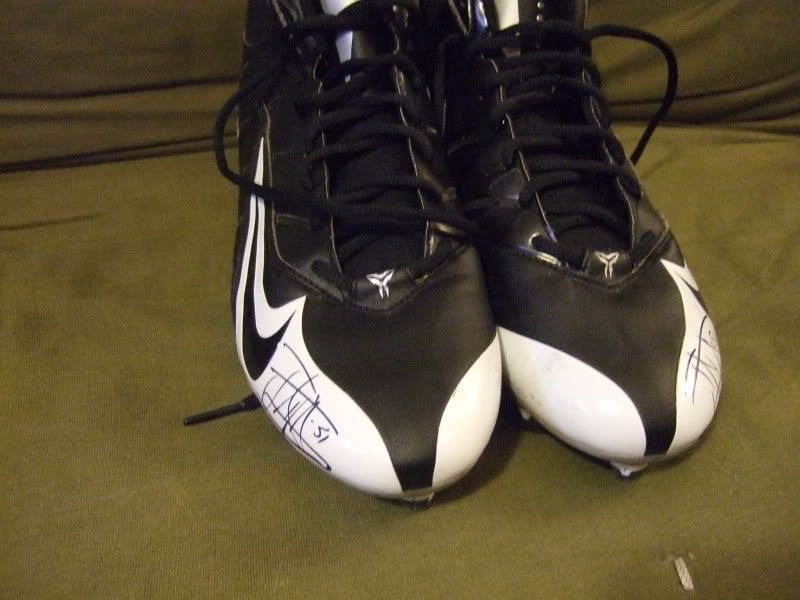 Ball signed by bobby Hebert, archie manning, and aaron brooks



1 of only 1000 prints made and given to fans at a saints game of morten Anderson. He was there to be put in the HOF and I got him to sign it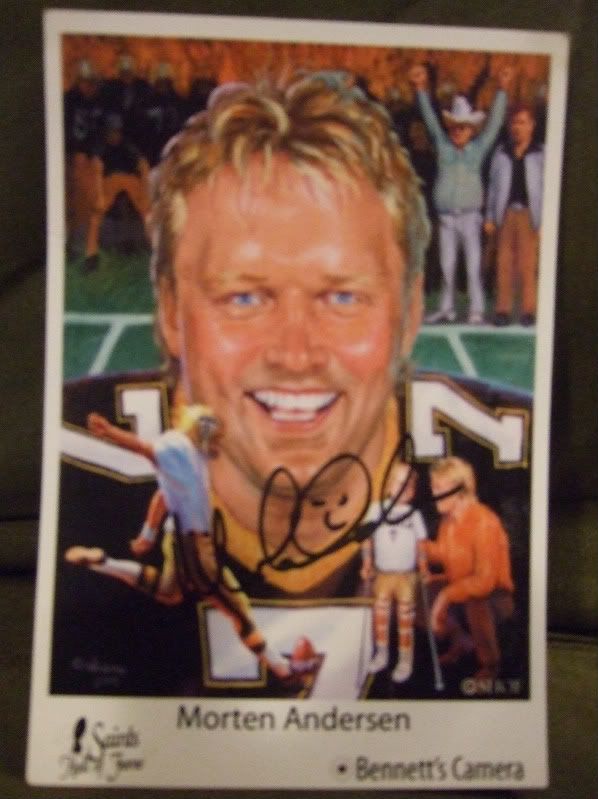 Helmet I had signed at the marucci banquet by: jose boutista, will clark gary Sheffield, ryan theriot, cory Patterson,jose cruz jr, and others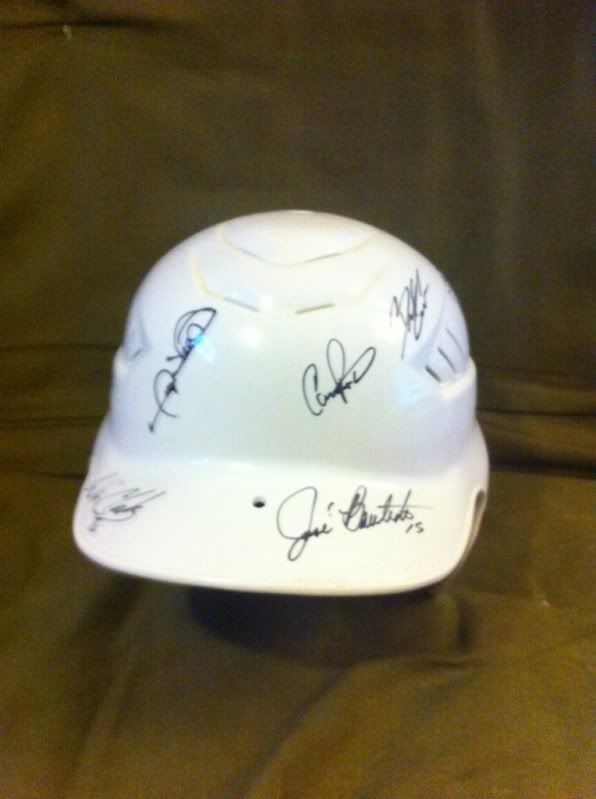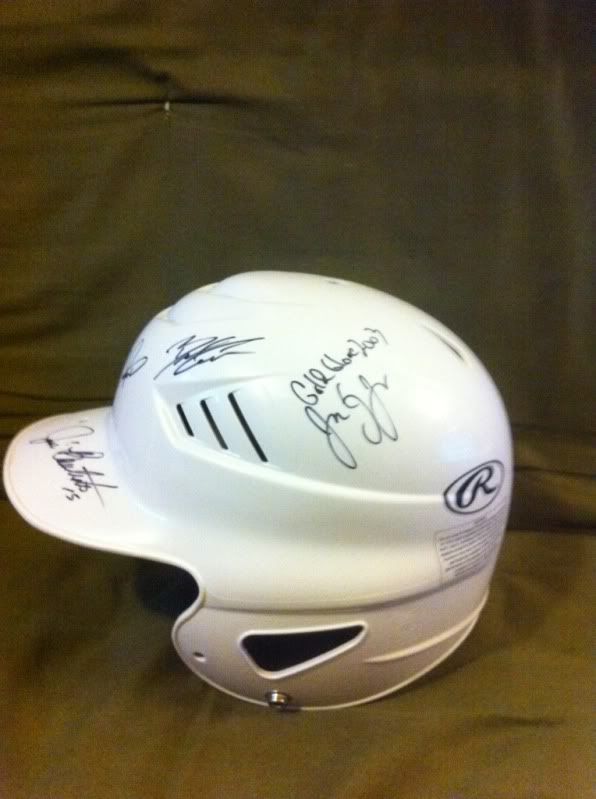 Reply • Back to Top
Posted by
olegreg
on 9/25 at 6:35 pm to

Wolf Shirt

I know, my bad. Im not sure whats going on with photobucket. It shows perfectly on there and the preview.


Reply • Back to Top
Posted by
mr. penguin
on 9/25 at 6:36 pm to
olegreg


This post was edited on 9/25 at 6:36 pm

Reply • Back to Top



Reply • Back to Top



Reply • Back to Top



Reply • Back to Top
Posted by
Colonel Toddy
on 9/25 at 6:39 pm to

olegreg

Awesome collection ! Your 1959 OM-LSU ticket is worth some big bucks. I would love to have the program as I collect programs. The last one on EBAY went for $1500. There is no telling what your ticket is worth.


Reply • Back to Top
Posted by
olegreg
on 9/25 at 6:41 pm to

Colonel Toddy

Yea the ticket is one of my favs. I got it for literally a steal price. Almost felt bad, almost. lol. Ive been on the lookout and only know 3 people to have them. Im willing to spend, but not that much. I believe my ticket is more valuable and more rare, esp since its the full one.


Reply • Back to Top
Posted by
aaronb023
on 9/25 at 6:44 pm to
Colonel Toddy
nice collection. i'd be happy with a few of those. where do you keep all that?


Reply • Back to Top



Reply • Back to Top



Reply • Back to Top
Posted by
Gtiger9757
on 9/25 at 6:46 pm to

olegreg

awesome, but how in the hell does a college kid acquire a collection like that?





This post was edited on 9/25 at 6:47 pm

Reply • Back to Top



Reply • Back to Top


And I do know a few people that hook me up with things and i know how to purchase unique items and also how to get autos from many different people.

And as to how a college kid aquires the collection like i have shown, not including the majority of things not shown here is saving money, working on my land for my parents, having a good gpa and therefor getting some of these as gifts (which i have found and asked for) from my parents. But its not a handout. I bust my butt for my parents upkeeping 8 acres and constantly doing carpentry, plumbing, and electrical on our land.


Reply • Back to Top



Reply • Back to Top
fine collection bro


Reply • Back to Top
Posted by
SuperSaint
on 9/25 at 7:00 pm to
olegreg



Reply • Back to Top • Refresh